Brian Creagh opened Starting Pitcher week here at Fake Teams with the landscape of the position for fantasy purposes earlier this morning. Today we bring you our consensus fantasy starting pitcher rankings for 2016. We used a points system for each of the 100 starting pitchers ranked by each of the Fake Teams writers who participated in the consensus rankings series.
The writers who participated in this series are:
Ray Guilfoyle
Jason Hunt
Rob Parker
Daniel Kelley
Jack Cecil
Timothy Finnegan
Heath Capps
We feel that providing you our consensus position rankings, you get an average ranking from the Fake Teams writers, rather than one writers' opinion, which inherently includes some biases.
Each of the position rankings will be split into two parts, rankings and player profiles for starting pitchers ranked 1-50 in part 1, and rankings and player profiles for starting pitchers ranked 51-100 in part 2 to be published on Tuesday morning.
Digging deeper into the position, run scoring actually went back up last year after a dramatic drop off between 2009 and 2014. In 2009, 22,419 runs were scored, 5,042 HR were hit, and pitchers had an average ERA of 4.32. In 2014, total runs scored fell to 19,761, a drop of 2,658 runs. Total home runs dropped by 856, to 4,186, and average ERA fell to 3.74. In 2009, 11 starting pitchers had an ERA under 3, while in 2014, 22 starting pitchers had an ERA under 3.
In 2015, MLB average ERA for starting pitchers shot up to 4.10, from 3.82 in 2014. Fielding Independent Pitching for starters went up to 4.03, from 3.81 in 2014, and home runs per 9 innings also went up, from 0.91 to 1.06. Strikeout rate and walk rate held steady between 2014 and 2015, at roughly 19.5% and 7.1% each.
There has been some rumbling about adding the DH to the National League in the new CBA discussions, which will begin after the 2016 season ends. That would give a further bump in run scoring, but until it actually happens, it's probably not worth discussing for fantasy purposes. League average ERA for starting pitchers between the AL and NL generally varies from about 0.10 to 0.20 year to year.
1. Clayton Kershaw
Clayton Kershaw is the king of fantasy pitching. His ERA was a little higher last year than it had been the previous two seasons after giving up some more home runs, but it was still an elite 2.13, third best in baseball. Kershaw's average exit velocity against was second best among starters, and he significantly increased both his strikeout rate and swinging strike rate from previous seasons. Kershaw finished with 301 strikeouts, the first 300 strikeout season since Randy Johnson and Curt Schilling did it in 2002. The Dodgers offense looks good, especially if Yasmani Grandal and Yasiel Puig can bounce back from injuries, and Kershaw remains the best bet to end up the kingpin at the position in 2016.
2. Max Scherzer
Scherzer had a significant boost in swinging strikes in his first season back in the NL, jumping to over 15% with the Nationals from about 12% with the Tigers. It resulted in an increase in strikeout rate to just under 31%, third best in baseball. He also significantly cut down his walk rate in the NL, dropping to under 4%, from about 7% with the Tigers. Injuries to the Nationals lineup contributed to just 14 wins. The Nationals hope to get bounce back years from Anthony Rendon and Jayson Werth, plus midseason contributions from Trea Turner.
3. Chris Sale
Sale's run prevention took a hit in 2015, and it was probably some mixture of randomness, allowing worse batted ball trajectories and getting more fly balls squared up. Sale gave up more line drives, generated less pop ups, and more of his fly balls went out for homers in 2015 than 2014. He also stranded significantly less base runners than he and other elite pitchers normally strand, which may point to some bad luck. Both his strikeout rate and swinging strike rate went up in 2015, and he also cut his walks down slightly. Sale projects to be a sub 3 ERA pitcher in 2016 with a gigantic strikeout rate and will remain one of the elite pitchers in fantasy.
4. Jake Arrieta
Don't be fooled by his lack of history: Arrieta is legitimately one of the most elite pitchers in the sport. Arrieta made some adjustments with the Cubs that fueled the explosion, and what jumps out most is his slider: the pitch averaged 90.3 mph in 2015, and is one of the nastiest pitches I saw all season. He throws it about 29% of the time, significantly higher than his Baltimore days, and it's helped generate an 11% swinging strike rate overall, a rate way above where it was prior to coming to Chicago. He also had the best average exit velocity against for all starting pitchers. I made this .gif last season, and I want to include it here to show just how ridiculous his slider is: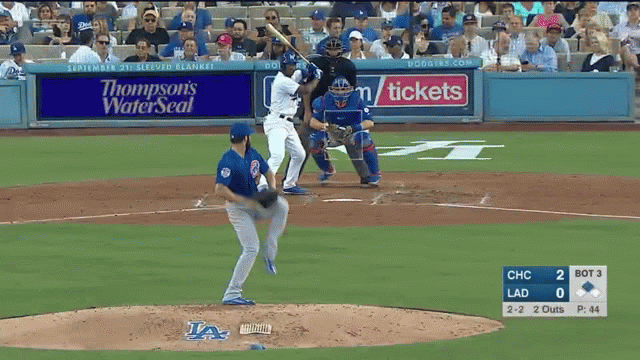 With his pitch mix, how does anybody hit that?
Arrieta did seem to wear down a little bit in the playoffs, as his workload far exceeded anything that he'd experienced beforehand. I have him as my #2 starting pitcher, behind Clayton Kershaw. The Cubs offense is tremendous, and he will be in for another 20+ win, 200+ strikeout, 2's ERA type year.
5. David Price
Price has pitched the majority of his career in the AL East and will spend at least the next 3 seasons in Boston. Price significantly increased his swinging strike rate last year, up to 12%, significantly up from his Rays years. The Red Sox offense is hoping for bounce back years from Hanley Ramirez and Pablo Sandoval, along with further contributions from Jackie Bradley Jr and Rusney Castillo. Price will be a contender for a sub 3 ERA, and his win total will largely depend on the development of the Red Sox offense and if Hanley/Pablo can bounce back.
6. Zack Greinke
Greinke has taken a leap forward in part by adding a hard change up, which averages about 88 mph and tops out around 92. The hard change up is so effective because it dives out of the zone and is very difficult to differentiate between his fastball. Greinke combines this into a nasty 5 pitch mix that makes it hard for hitters to sit on anything. He will move out of pitcher friendly Dodger Stadium and into hitter friendly Chase Field next season. Chase Field is not a good environment for pitching; it is the second highest park elevation, behind Coors Field, and the Diamondbacks will play 90 games in Chase Field and Coors Field next year, up from just 18 in those parks with the Dodgers. Putting together another season with an ERA under 2 sounds unlikely, but regressing to a mid 2's ERA still puts him in the elite category.
7. Jacob deGrom
deGrom just keeps getting better as he gets older. In 2014, he took off partially by adding the "Warthen Slider" to his mix, and in 2015, he added velocity on both his fastball and slider while throwing a plus change up and plus curve. deGrom's greatest strength is his pitch mix; he keeps hitters off any single pitch by remaining unpredictable, and throws all of his pitches in all different counts and situations. He appeared to gas out after a 120+ pitch start in Game 1 of the NLDS against the Dodgers and wasn't the same the rest of the playoffs in terms of command and sharpness, but a full offseason and light spring training should get him primed for another big year as one of the Mets multiple aces.
8. Madison Bumgarner
Bumgarner was vintage in 2015, throwing to a sub 3 ERA with a 27% strikeout rate. It was Bumgarner's highest K% of his career, and it was backed by a career high in swinging strike rate. The Giants are in a tough division with the Dodgers and Diamondbacks, but Bumgarner is as safe a pick as pitchers get. His home park is fantastic for pitching, and the Giants offense should provide him with enough run support. Another 16-18 win season with a sub 3 ERA appears to be likely.
9. Jose Fernandez
Fernandez is historically good; one of the greatest young pitchers ever. Since 1920, Fernandez's career ERA- of 64 is the best among all pitchers aged 23 or younger. Fernandez will be on somewhat of an innings limit this season, but it doesn't appear to be a hard cap. He says that as long as he feels healthy and strong, it will be tough to take him off the mound. I suspect the Marlins will do what the Mets did with Matt Harvey last year and skip some starts during the summer to keep Fernandez around for a playoff run. I think it's good that Fernandez got 60 innings in last year post Tommy John, as he seemed to hit a little bit of a wall towards the end of the year. Fernandez has the ability to put together the top pitching season, but the innings limit murks things up a bit.
10. Corey Kluber
2014's Cy Young award winner had a big ERA spike in 2015 from his Cy Young season, rising from 2.44 to 3.49. This was primarily because he allowed more home runs (0.53 to 0.89 per 9) and stranded significantly less baserunners. His strikeout and walk rates remained similar to his Cy Young season, but he generated less pop ups and less ground balls. It's also possible Kluber missed catcher Yan Gomes, who missed large chunks of 2015. Gomes has a reputation for solid pitch framing skills, as well as managing the pitching staff and running game. Elite defender Francisco Lindor will also be behind Kluber at SS from day 1 this year.
11. Dallas Keuchel
I couldn't believe how low Dallas Keuchel's ADP was last year, and he won't be underrated by the public now coming off a Cy Young award. Keuchel is arguably the king of weak contact. His two seamer is really tough to square up, and he generates a Brandon Webb esque ground ball rate. The Astros will be contenders again, and I expect Keuchel to keep performing at a high level.
12. Matt Harvey
Harvey's 2013 season was, in my opinion, one of the greatest pitching seasons in MLB history, but he had some peaks and valleys in his first full season back from Tommy John in 2015. He dominated through the middle of May, but hit a wall towards the end of the month and got squared up like I've never seen before. His command was off, and his fastball didn't appear to have that same late explosion that it normally has. Harvey didn't really look the same the rest of the year, even though his stats were great in his final 10 regular season starts. In his final start of the year against the Royals in the World Series, though, Harvey emptied the tank and put together his best start post surgery, considering quality of opponent, command, and pure stuff. His toxic slider was back, and he made a team that rarely swings and misses strike out at a 34.6% rate. Manager Terry Collins said that Harvey's late fastball life and slider spin are back to elite levels early this spring, an encouraging sign for 2016. I expect more of 2013 Harvey than 2015 Harvey this upcoming season.
13. Gerrit Cole
Cole had a huge increase in run prevention in 2015, cutting his ERA down to 2.60, from 3.45 in seasons prior. His pure stuff is among the best in the game. He averages 95.5 mph on his four seamer, third highest in baseball, and showcases ridiculous movement on his fastball at times. The Pirates have been a pitching factory in recent years, and their home park is a very friendly environment for lower run scoring. Cole will be a strong bet to keep performing at an ace level entering his third full season in MLB.
14. Carlos Carrasco
Carrasco enters 2016 as a potential fantasy ace, and one that could come at a less than ace like ADP. He features some of the nastiest stuff in the game, and made legitimate improvements as the year went on last year. The first was generating significantly weaker contact. Prior to June 14, Carrasco's average exit velo against was 90.6 mph, which ranked 130th among starters, 7th worst. The rest of the way, it dropped to 87.5 mph, and jumped from 130th to 42nd among starters. He also significantly increased his strikeout rate (27% to 31%) and swinging strike rates (12% to 15.5%) while maintaining the same walk rate (6%).
15. Chris Archer
Archer had an explosion in strikeouts last year, primarily by adding a hard, biting slider that averages 88 mph and touches 92 mph. He throws the slider about 40% of the time, and gets tons of strikeouts at the bottom of the zone with the pitch. Combined with his 95+ mph fastball, Archer's two pitch mix is as deadly as any in the American League. Archer did hit a little bit of a wall late last year: through his first 180 IP, he had a 31% K% and a 2.78 ERA. In September, his K% fell to 20%, and his ERA ballooned to 5.81. His lousy September really skewed how fantastic he was through the first 5 months of the season, and might result in him falling further in fantasy drafts than his ability warrants.
16. Felix Hernandez
King Felix had his worst season since 2011 after he appeared to be pitching through ankle and quad injuries for parts of the year. He posted his worst home run to fly ball ratio in 8 years, 15.3%, and it resulted in 1.03 HR/9 allowed, significantly higher than the 0.62 he pitched to in his 5 previous seasons. His strikeout rate also fell from 27% in 2014 to 23% in 2015. Felix's quad injury, which was termed "quad tightness", was to his right quad, and if that lingered for parts of the year, it's possible he couldn't drive off his right leg as well as he needed to. If healthy in 2016, look for a more "King Felix" like season.
17. Stephen Strasburg
Strasburg had a disappointing season in 2015, partially because of pitching through back pain. Strasburg described the back pain as a "knot" in his lat muscle, and had a lesion removed from his upper back in December to relieve the pain. He also dealt with an oblique injury that shut him down for a month. After coming off the DL in August, Strasburg was vintage, pitching to a 1.90 ERA and 2.09 FIP while showcasing one of the greatest curve balls I have ever seen. Strasburg faced lousy opponents in that late season stretch, but his pure stuff looked incredible regardless of results, and that's what was most encouraging to me. Strasburg enters his final year with the Nationals before free agency looking to get his ERA under 3 for the first time since his rookie year in 2010.
18. Noah Syndergaard
Syndergaard showcased huge developmental gains in 2015, primarily by improving pitch sequencing. Earlier in his career, Syndergaard would just pump fastball after fastball when in trouble and try to throw the ball by hitters. In 2015, he developed a much stronger pitch mix, keeping hitters off his fastball by throwing more offspeed pitches in fastball counts. He also developed a ridiculous two seamer, which I wrote about back in May. In the second half of the season, Syndergaard started experimenting with the deadly Warthen Slider, and ramped up its use in the playoffs. It's possible that Syndergaard continues to take huge leaps forward in 2016, especially with consistent slider usage, and he might ultimately end up as the best pitcher on the Mets staff, which would be quite the accomplishment.
19. Jon Lester
Lester turned in a season in 2015 just about where you'd expect him to perform: his 3.34 ERA wasn't far off from his 3.55 career ERA, and his strikeout rate held firm from 2014 at about 25%. The Cubs are absolutely loaded this year, and Lester is going to be in great position to rack up a big win total, a total that should far exceed his 11 wins last year.
20. Johnny Cueto
Cueto had somewhat of a weird season last year: he pitched very well with the Reds (2.62 ERA), but did not pitch well after being traded to the Royals (4.76 ERA). He did showcase dominant outings at times with the Royals, most notably in Game 2 of the World Series. What changed most for Cueto between the trade was a large drop in strikeouts (23% to 16%), a drop in swinging strikes (10.8% to 8.7%) and a huge rise in BABIP (.234 to .343). It's unclear if the massive rise in BABIP was primarily due to Cueto getting whacked around or baseball randomness, but Cueto's .234 BABIP with the Reds in 2015 closely mirrored his .238 BABIP with the Reds in 2014. Combined with the drop in bat missing, it's fair to question whether his stuff significantly dropped off in the second half of the year. Cueto moves back to the NL in a very pitcher friendly environment in San Francisco.
21. Adam Wainwright
Wainwright only made 4 starts last year before blowing out his achilles. He came back at the end of the season to pitch in relief and averaged 92 mph on his fastball, so his velocity was fine in his return. He is 34 years old now, though, and after missing just about an entire season last year, I am a little worried about him hitting a wall at some point during 2016 with his stamina. Based on these factors, I suspect it's more likely we see an ERA north of 3 than south of 3 this year for Wainwright, but he still remains an excellent bet to prevent runs at a significantly above average level.
22. Danny Salazar
Salazar is the third high octane arm in the Indians rotation. He significantly increased his run prevention in 2015, cutting his ERA down from 4.25 to 3.45. He generated better batted ball trajectories, increasing his ground ball rate from 34% to 44% and reducing his line drive rate from 23.4% to 18.7%. Salazar has a career strikeout rate of 26%, and maintaining that rate in 2016 would likely put him in the top 15 in strikeouts.
23. Cole Hamels
Hamels enters his first full season as a Ranger in 2016. Historically, Arlington was a pretty rough park to pitch in, but it isn't the same hitter's haven in recent years, as construction changed the wind patters in the park and the jet stream to the outfield is much tamer. Hamels' strikeout rate and walk rate resembled his career norms in 2015, and at 32, he still appears to be in his prime.
24. Sonny Gray
Gray posted a significantly lower ERA (2.73) than his FIP (3.45) last year, primarily because of a .255 BABIP against. However, that doesn't mean he was lucky; Gray limited opponents to a 16.6% line drive rate, 4th best in baseball and significantly above the MLB average of 21%. LD% is subjective, and launch angles are the objective measure that would be best to use for this purpose, but until they're publicly available, this is the best way of measuring trajectories opponents generated. Batters don't appear to be able to square Gray up too often, so don't automatically assume huge regression this year.
25. Tyson Ross
Padres pitchers had to pitch in front of the worst defense in MLB last year, and Ross' .320 BABIP against may have had something to do with that. His ground ball rate was third behind only Brett Anderson and Dallas Keuchel, and his nasty slider helped generate a 26% K%. PetCo played much more hitter friendly than ever before last year, possibly because construction in downtown San Diego changed ballpark wind patterns.
26. Francisco Liriano
Liriano has posted an identical 3.38 ERA in back to back seasons, but his 2015 season was more impressive because run scoring as a whole went up league wide. What you're going to get with Liriano is pretty straight forward: lots of swings and misses, and lots of walks. Liriano's 14.3% swinging strike rate was 4th best in baseball, and his 26.5% K% was 10th. His one glaring flaw is his walk rate, but he cut it down significantly last year, from 11.7% to 9.1%. A 9% walk rate is still below average, but much more tolerable than one approaching 12%. Largely due to the walk rate, Liriano has not posted a WHIP below 1.20 since 2006.
27. Yu Darvish
Darvish makes his return coming off Tommy John surgery. He had the surgery in the middle of March of last year, and using the 14 month timetable, that would put him on track to return sometime around the end of May. Darvish's career strikeout rate of 30% is just ridiculous, especially for an American League pitcher, but it probably isn't fair to expect him to perform at his highest level until 2017. Regardless, Darvish should hold a lot of value down the stretch for fantasy owners who decide to stash him this year, especially those in H2H leagues who can use him in the playoffs.
28. Masahiro Tanaka
Tanaka pitched 154 innings last year with a partial tear in his UCL. The same injury limited him to 136 IP in his rookie year. Tanaka battled arm trouble multiple times last year and appears to be a serious injury risk going forward. When he's healthy, he's very good at limiting baserunners and getting strikeouts, but he is prone to giving up home runs: he owns a career HR/FB% of 15.7%, with a HR/9 of 1.24, both well below average. Yankee Stadium plus a somewhat straight fastball probably are factors in this; Tanaka owns a career HR/9 of 0.95 on the road vs a 1.49 in Yankee Stadium. Tanaka looks to be a good bet to produce well when he's on the field, but he comes with the risk of spending a lot of time on the DL.
29. Carlos Martinez
Martinez took a big leap forward last year primarily by becoming more effective against lefties. He made a change up a staple in his repertoire, increasing his pitch usage from 3% to 15%, which helped him get lefty production under control. When healthy, Martinez has some of the most electric stuff in the game, but a shoulder injury suffered in late September makes his health somewhat of a question mark in 2016.
30. Garrett Richards
Richards made his return from a torn patellar tendon in his left knee and wasn't nearly as effective as he was prior to the injury. Richards' ERA rose from 2.61 to 3.65, primarily because his incredibly low home run allowed total rose to a more normal level. His velocity dipped a little, and his ERA, K% and FIP ended up about average. Average is still valuable, but Richards doesn't appear to be the front of the line starter that he showcased in 2014.
31. Marcus Stroman
Stroman has long been one of my favorite pitchers to watch. I wrote a piece on him in early January of last year (see here) gushing over his ridiculous two seamer. And it's not just his two seamer that is amazing, his entire arsenal of pitches is fantastic. The AL East generally sucks to pitch in, but Stroman generates so much weak contact and ground balls that he's much less likely to be burned by smaller yards than a pitcher who tends to give up harder contact or more fly balls. His stamina in 2016 might be a little off after only throwing 35 IP last year, but I expect him to perform at a high level for most of the year.
32. Michael Wacha
I was worried about Wacha last year with his shoulder issues, but he bounced back nicely, posting a 3.38 ERA with a 20% K%, not far off from his 21% K% in 2014. He now owns a 3.21 ERA in 353 career IP. Wacha appeared to hit a wall after 160 IP, though: he posted a 7.88 ERA with a 7.84 FIP in 5 September starts after pitching to a 2.69 ERA/3.26 FIP over his first 157 IP. His strikeout rate fell to 17% in those last 5 starts, and he gave up 7 home runs in 24 IP, a 2.63 HR/9. Perhaps he was worn down after reaching new innings heights (his highest professional IP total was 150, in 2013), and maybe he'll be better equipped to maintain that sub 3 ERA in 2016 as he builds up his stamina.
33. Michael Pineda
Pineda significantly underperformed his peripherals last year, in large part due to a .332 BABIP and a 68% strand rate. His strikeout and walk rates were sparkling at 23.4% and 3.1%, and he flashes some nasty stuff when he's on. He has above average swinging strike (12%) and contact (76%) rates, and his batted ball profile appears pretty average both in terms of exit velocity and trajectories against. Pineda has been prone to blow up starts when his stuff flattens out, but I like him to rebound in 2016. He does carry injury risk.
34. Jake Odorizzi
Odorizzi cut his ERA down from 4.13 in 2014 to 3.35 last year. He changed the way he pitched in 2015: he cut down on his four seam (53% to 36.5%) and slider (12% to 3%) and added a cutter, threw a lot more two seamers and increased his splitter usage. The changes led to less strikeouts, but better results on balls in play. A fly ball pitcher is a little dangerous in the hitter friendly AL East, but Odorizzi's home park is much more forgiving than the other AL East parks. This is reflected in his home/road home run splits: Odorizzi has allowed significantly more home runs on the road than at home, and his ERA and OPS against are both significantly better at home than on the road. Take this into consideration when starting him in seasonal or daily leagues.
35. John Lackey
Lackey moves over from the Cardinals to a stacked Cubs team that should provide him a lot of run support. It's unlikely he reproduces his 2015 ERA, as his elite strand rate doesn't really reflect his skill set or his strand rates in prior seasons. My main issue with Lackey is that he is 37 years old, and I don't know how much longer he can realistically keep going, although he has shown no signs of decline in his last 3 seasons.
36. Jose Quintana
Quintana has been both excellent and consistent in his 4 year career. He owns a career ERA of 3.46, 14% better than league average by ERA-, and has posted an ERA in the 3.3s the last two seasons. His strikeout rate hovers slightly above average at 21% the last two seasons. The main thing holding him back for fantasy purposes is a low win total; he's won just 9 games in each of the last 3 seasons. The White Sox traded for Todd Frazier and Brett Lawrie in an effort to boost their offense, and Quintana might finally break double digit wins in 2016 with more run support.
37. Jordan Zimmermann
Zimmermann's 2014 season appears to be an outlier, as his K% and swinging strike% from that season do not resemble what he's put together in his other seasons, including his most recent one. His fastball velocity is down 1 mph from 2013, and he saw a notable spike in home runs allowed last year. Despite the red flags, Zimmermann was still good last year. His park and league adjusted ERA- of 93 was 38th best, only a few ticks higher than notable pitchers Cole Hamels (90), Carlos Carrasco (91), and Felix Hernandez (91).
38. Carlos Rodon
The #3 overall pick in the 2014 draft features one of the nastiest sliders in the game. He combines it with a mid 90s fastball and projects to generate big strikeout totals. Rodon's problem has been control: his 11.7% walk rate is significantly below average. Rodon may have made some natural progression in the second half, as he cut his walk rate down to 9.5% in August and September over his final 9 starts.
39. Rasiel Iglesias
Iglesias is probably the most popular breakout player cited so far this offseason in the fantasy industry. He generated a strong 26% K% in just under 100 IP last year with a swinging strike rate of 11.7% and misses bats at a high enough rate to give him a high fantasy ceiling. Iglesias was prone to homers last year, though, and his home park won't help that cause. He also had some issues with LHB: his K% fell to 17% vs lefties, and he allowed a .284/.348/.405 slash to them with a 1.54 whip. His dominance of RHB makes the overall package appealing, though, and Iglesias appears to be a good bet for an above average ERA and K% over the course of 160-180 innings or so.
40. Scott Kazmir
Kazmir moves from the AL to the NL to pitch for the Dodgers, where he gets to play in a pitcher friendly environment with a good offense supporting him. What is a little alarming is that Kazmir has pitched poorly in August and September in his last 2 seasons, with a significant rise in both ERA and OPS against in those months compared to earlier in the year. I don't know if this will continue in 2016, but if he's pitching well through July, it might be time for fantasy owners to investigate a trade.
41. Drew Smyly
Smyly pitched great for the Rays in 2014 after coming over in the David Price trade, but shoulder problems limited him to 66 innings last year. What is most encouraging is that Smyly missed bats at a very high level in those limited innings, with career highs in strikeout (28%) and swinging strike (11.4%) rates. In quality start leagues, Smyly is a little risky because he only went 6 innings or more in 6/12 starts, and the Rays like to get their starters out before batters see them for the third time. If healthy, Smyly can be one of the better pitchers in the AL East, but he comes with some risk.
42. Yordano Ventura
Ventura underperformed his peripherals last year, probably because he was prone to getting whacked around. Ventura's exit velocity chart shows weekly peaks well below average throughout the season, and his average exit velo against was below average at 89.8 mph. In particular, his high velo fastball got crushed when thrown in the strike zone, which may point to hitters sitting on it. His high octane fastball curve combo and age still gives him upside and room for improvement.
43. Hisashi Iwakuma
Iwakuma is back with the Mariners after failing a physical with the Dodgers. Injury risk is the biggest issue with him: when he's on the field, he's been excellent. He owns a career 3.17 ERA, and it was an above average 3.54 last year. He's also generated an above average strikeout rate.
44. Jeff Samardzija
Samardzija was horrible in 2015, but his strong 2014 and big arm still got him a large contract with the SF Giants. Samardzija now will get the luxury of pitching in one of the best pitching environments in the game and has a good team supporting his win total. What is alarming about Samardzija is that his strikeout rate took a nosedive last year, down to 18%, from 23-25% in his prior 3 seasons. If he can re-find his strikeout stuff, Samardzija has the potential to prevent runs at an above average level in SF's pitcher friendly environment.
45. Lance McCullers
McCullers is one of the brightest young pitchers in the game. At age 21, McCullers put together a 3.22 ERA with a 25% K% and 3.26 FIP. By ERA-, it was the 48th best season in baseball history for a pitcher age 21 or younger (min. 120 IP). McCullers will likely be capped around 180 IP this year, so look for Houston to give him a break during the middle of the year to preserve his innings for the playoffs.
46. Taijuan Walker
Walker is an electric young pitcher but was home run prone in his first full big league season last year. Walker gave up 1.33 HR/9, a rate significantly below average, and 13% of his fly balls went for home runs. What is encouraging is that his strikeout and walk rates were strong at 22% and 6%, and if Walker can limit the long ball, he can get his production to MLB average, with upside for more with further improvements.
47. Wei Yin Chen
Chen moves from one of the least friendly pitcher divisions to one of the most friendly, and will now pitch half of his games in Marlins Park, one of the better pitcher parks in baseball. Chen was homer prone last year, and the changing of park effects should theoretically help him reduce this rate. Chen will likely hover around league average in strikeout rate, but has a shot to prevent runs to a well above average level for a mediocre Marlins team.
48. Shelby Miller
Miller has always been a very talented pitcher. He was a top 10 prospect for the Cardinals before the 2013 season and had a fantastic rookie year. He regressed badly in 2014, and the Cardinals traded him to the Braves for Jason Heyward. Miller reinvented himself with the Braves: he made the cutter a staple in his repertoire, starting throwing a lot more two seamers and increased his average fastball velocity to 94.1 mph. He had a spike in ground ball rate, and his home runs allowed per 9 was 6th best in baseball, sandwiched between Zack Greinke and Clayton Kershaw. Moving to Arizona and Chase Field sounds problematic for maintaining this excellent home run rate, but Miller does not get squared up too often, and limiting hard contact can help mitigate park effects.
49. Patrick Corbin
Corbin made his return from TJ surgery last year, throwing 85 IP with a 3.6 ERA and 22% strikeout rate. Corbin's slider is nasty, and he sits at about 92 mph with his fastball. He has the stuff to miss bats at an above average rate, and the Diamondbacks feature one of the better offenses in the National League. Corbin likely will not rack up a big IP total, but he looks to be a good bet to be excellent when he does pitch.
50. Steven Matz
As a lefty who touches 97 mph, sits around 94 with strong movement, and has two potential plus secondary pitches, Matz has incredible potential. His problem has been health: Matz will only retain rookie status in 2016 because he spent enough time on the DL last year after his debut to delay it. Matz's career high in IP is about 140 IP, and it's probably likely he does not exceed 180 IP this year based on his history. Matz is somewhat of an injury risk, but he has the ability to turn in a sub 3 ERA with an above average K% for one of the top teams in baseball next year and will carry plenty of fantasy value.