Marcus Stroman has been dismissed as a starting pitcher all of his life because of his height. Stroman stands at 5'8 and doesn't have the prototypical long frame that most scouts want to see in a pitcher. Tall pitchers are preferred as prospects because they release the ball closer to home plate, generate more of a downward angle on their pitches and are better equipped to handle the workload of a starter.
Although tall pitchers have a better chance of finding success because of these traits, that doesn't mean a short pitcher cannot find success. Marcus Stroman is proof of that. Stroman is on the verge of breaking out into one of the American League's best starting pitchers.
Quick overview of Marcus Stroman's 2014 rookie season
Stroman finished his rookie season with an elite FIP- of 73. Using 130 IP as the minimum, Stroman would have been 12th best in baseball in FIP-, ahead of notable big free agents Max Scherzer and Jon Lester. His 2.84 FIP would have been 16th best in baseball. These statistics include a short and rocky stint in the bullpen to open his season.
Here's a quick overview of Stroman's results in 124 IP as a starter:
| | | | | |
| --- | --- | --- | --- | --- |
| ERA | ERA- | FIP | FIP- | xFIP |
| 3.18 | 81 | 2.74 | 70 | 3.11 |
With a K% of 20.8% and a BB% of 5.2%, Stroman's strikeout and walk rates were better than league average. He generated strong ground ball (53.8%) and fly ball (27.7%) percentages which are important for success in the home run friendly AL East. Blue Jays players play over 100 games in home run friendly parks. Keeping a low fly ball percentage limits the chances that Stroman will be burned by a fly ball going over the fence.
Change in approach fueling the potential 2015 breakout
Those numbers above are skewed because Stroman underwent a significant change in repertoire and approach during the season. Eric Koreen of The National Post wrote,
Marcus Stroman's dominating performance against the Chicago Cubs on Monday was perhaps the best performance by a Blue Jays starter this year, aside from Drew Hutchison's August mastery of the Baltimore Orioles. He threw a 93-pitch complete-game shutout, surrendering just three hits, striking out eight and walking none.

It was a less glamourous statistic that had reporters talking after, however: Stroman recorded 16 of the 27 outs via ground balls. Stroman credited his two-seam fastball — colloquially called a "sinker" because of the downward trajectory of the pitch.

"It allows me to go deep into games. I used to be a high-pitch guy: five innings, six innings, a ton of pitches and high punch-outs," Stroman said of the pitch after Monday's game. "Now I feel like I'm really learning how to pitch. Using that pitch, I'm able to go deeper, keep the ball on the ground. I'm able to get double plays when I need them."

Stroman started to use the sinker more often in his July 19 start against Texas, after finding a grip he was comfortable while fiddling around with a baseball at home.
According to PITCHf/x, Stroman did not use his sinker until that July 19th start against Texas. In those 12 final starts, Stroman threw his sinker 23.3% of the time. His four seam use dropped significantly, from 56.6% to 33.7%.
Stroman flourished with the new approach. His FIP dropped to 2.43 during that stretch with an amazing FIP- of 63. For a loose reference, Stroman's 63 FIP- would have been the best the American League over the course of a full season, but obviously you can't project that due to the size of the sample.
Here's a comparison of Stroman's results pre two seamer use and post two seamer use:
| | | | | | | |
| --- | --- | --- | --- | --- | --- | --- |
| | ERA | FIP | xFIP | GB% | FB% | FIP- |
| Pre | 4.05 | 3.43 | 3.46 | 48.8% | 33.3% | 88 |
| Post | 3.38 | 2.43 | 2.96 | 57.5% | 23.7% | 63 |
This is not an arbitrary endpoint, either, because a tangible, significant change in Stroman's process on the mound took place. The addition of Stroman's sinker took him to elite levels of performance.
Repertoire
Here's a table of Stroman's pitch types pre approach change and post approach change:
| | | | | | | |
| --- | --- | --- | --- | --- | --- | --- |
| | 4 seam | 2 seam | Cutter | Curve | Slider | Change |
| Pre | 56.6% | 0% | 15.5% | 11.5% | 9.1% | 7.3% |
| Post | 33.7% | 23.3% | 14.5% | 15.4% | 6.7% | 6.1% |
Two seam (sinker) fastball
Stroman's two seam fastball is amazing and is one of the best pitches I saw all season from a starter. The movement and fast speed of the pitch make it an incredibly exciting offering. The sinker played a huge role in his strong GB% and FB%; Stroman generated a 64% GB% and a 9% FB% with the pitch.
His two seamer has strong two plane movement, darting both downward and back to the arm side. It moves like a screw ball, and comes in hard at around 93-94 mph. The reason why Stroman generates such a strong GB% and FB% with the pitch is because of its late downward movement. The ball often hits the bottom of the barrel, generating forward spin that causes the ball to dive into the ground.
Weak contact
Stroman's two seamer has so much movement that hitters have a very difficult time putting the sweet spot of barrel on the ball, which is one reason why Stroman's hard hit rate was third best in baseball.
Here are examples of Stroman generating very weak contact with his two seamer: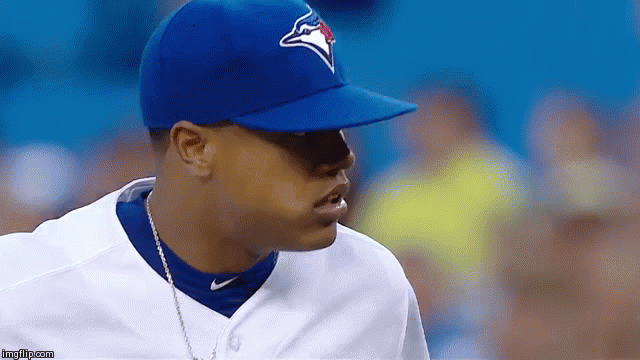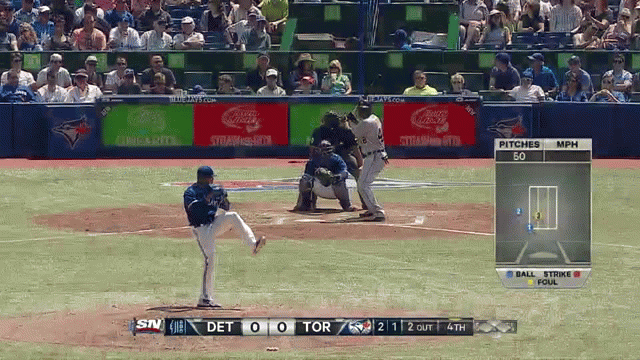 Even Miguel Cabrera hit the ball weakly against Stroman's two seamer:
Backdoor two seamer

Stroman also uses the movement on his two seamer to start the pitch outside of the strike zone with the goal of grazing the plate on the backdoor against righties.
Here's Stroman throwing a backdoor two seamer that strikes Derek Jeter out looking:
Here's Stroman throwing an even nastier backdoor two seamer to strikeout Mookie Betts: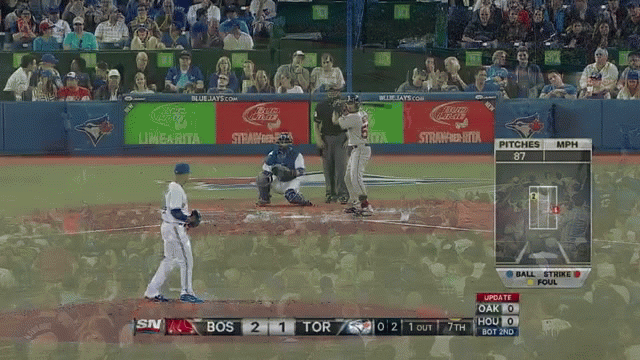 A backdoor two seamer to strike out Miguel Cabrera:
Stroman shows off fantastic command with this pitch. Command is different than control: control is the ability to throw strikes, command is the ability to put the ball exactly where you want it.
Swing and miss

Stroman doesn't get a whole lot of swinging strikes with this pitch, but he can still make a hitter look foolish with it. Here's Stroman generating a swinging strike against Mookie Betts: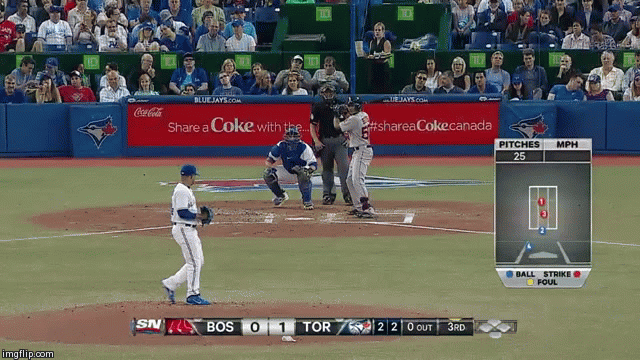 Jamming righties

Stroman also throws his two seamer in on the hands of righties to jam them. The pitch looks to be a fat pitch over the heart of the plate but breaks off the plate inside. A committing hitter will have the ball hit low on the bat towards the handle, which can result in the ball breaking the bat. That is what happens here: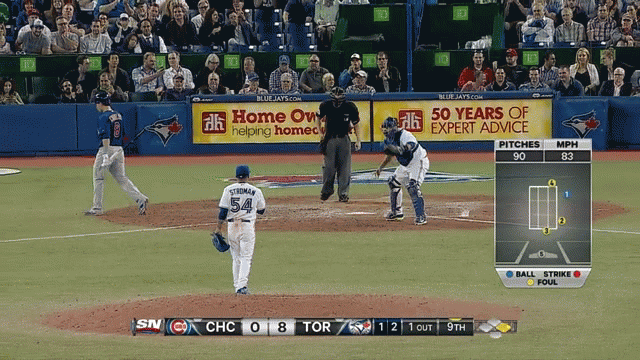 Here's what the batter sees when he must decide whether to commit to swing or not:
Here's where the ball ends up after the batter decides to swing:
Stroman's two seamer resulted in a wRC+ against of 58 and OPS against of .511. The outstanding movement, combined with the hard velocity, makes the pitch Stroman's best asset.
Slider
Stroman's slider is an excellent swing and miss pitch against righties. Stroman's slider has strong two plane movement, breaking down and away from righties:
Here's a wipeout slider thrown to Javier Baez:
Allen Craig swings for a vertically dropping curve but is met with a slider:
Here's fantastic slider location:
Stroman's slider produced a wRC+ against of 70 and OPS against of .568.
Curve
Stroman throws a sharp, tight curve that is thrown as a spike pitch down and out of the strike zone with primarily vertical drop. Stroman likes to throw his curve to get swing and misses against lefties.
Here's Stroman throwing a hellacious 83 mph curve to strike out Chris Coghlan:
The curve produced a wRC+ against of 83 and an OPS against of .606.
4 seam (straight) fastball
Despite not having the large frame of a traditional pitcher, Stroman brings one of the hardest four seamers in the game. Stroman maxed out at 96.5 mph with the pitch and averaged 93.6 mph with it for the year, which was 15th best in baseball (minimum 130 IP). Stroman had good results with the pitch, generating a wRC+ against of 93 and an OPS against of .636.
Stroman's 95 mph four seamer:
Cutter
Stroman's cutter generates a high number of ground balls (61.7%) and limits fly balls (26.7%), which is a very good thing. It moves much differently than his two seamer, cutting away from arm side. Stroman's cutter resulted in a 117 wRC+ against and a .725 OPS against.
Here's his cutter:
Change Up
Stroman's least effective pitch, and pitch he needs the most work on, is his change up. The pitch was tattooed in 2014 to a 174 wRC+ against and a .931 OPS against.
I'm no professional scout, but it appears that Stroman is slowing his arm motion down on the pitch here, which tips off to the hitter what is coming. A good change up is thrown with the same arm action and same spin as a fastball, but the pitcher uses a weak grip instead of a strong grip to account for the velocity drop.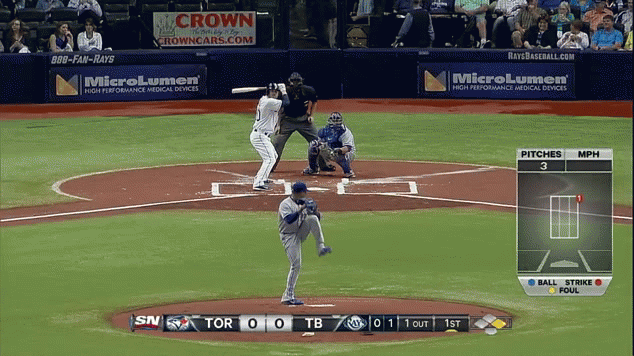 Tell me if you see the same thing.
Hard hit rate
Stroman was incredibly difficult to square up in 2014. Stroman amazingly had the third best hard hit rate in baseball. This is important because weaker contact is much easier for defenders to field and turn into outs than harder contact. You saw prime examples above of Stroman generating weak contact with his fantastic two seam fastball. Stroman's cutter also moves just enough to avoid the sweet spot of the barrel, limiting hard contact.
Final Thoughts
After seeing Stroman's pitches, I was surprised that his swinging strike rate was below league average. His stuff is plenty good enough to miss bats.
Steamer projects Stroman to throw 192 IP with a 3.75 ERA and a 3.54 FIP. Obviously, I disagree with Steamer here. I'm not sure if Steamer is taking into account Stroman's approach change into those numbers, either, but Stroman's combination of nasty stuff, good command, and superb FIP has me pinpointing 2015 as a breakout for him.
Bonus interview from 2013: Stroman credits his father for his success:
MiLB.com: It sounds like your family has been a big influence on your career.

Stroman: I can't preach to you enough. Me and my dad all growing up, we didn't have the best relationship at the time, but it was because he wanted the most for me. He pushed me to the limit where sometimes it put our relationship on edge, but I can't thank him enough now that he did that for me. He really made me the athlete I am today. From taking me to putting me in every league to pushing me to run on hills, you can name it, he did it for me. My mom was there to comfort when times were getting tough, when my dad was pushing me too hard. It was a good balance and I have a great relationship with them. I want to make it to the next level and spoil them and give back to the people who made me who I am.