In what has been a difficult, injury plagued season for Stephen Strasburg, he has flashed glimpses of his brilliant old self on a few occasions late in the year. The first glimpse of this was in a start at home against the Colorado Rockies on August 8; fresh off the DL, Strasburg struck out 12 Rockies hitters in 7 IP, racking up a 50% K% and a 17.5% swinging strike%. It was Strasburg's highest swinging strike % of the year, significantly up from the 8.2% in his starts prior. Strasburg averaged 96 mph on his fastball in the start and topped out at 98, while also mixing in a hellacious curve and ridiculous 90 mph change up to generate those swinging strikes and strikeouts. Strasburg looked vintage, but it was short lived; he was hindered by injuries again after just 3 more starts and only lasted 19 batters/4 IP in a start against the Marlins on August 30 before exiting with back pain.
In his latest start against the New York Mets, however, Strasburg gained some of that electricity back. He shoved against a potent Mets lineup that had been #1 in baseball over the previous 30 days with 172 runs scored and a 137 team wRC+. Strasburg struck out 13 of the 28 batters he faced, a 46% K%, and generated a 12.5% swinging strike%.
What was most impressive about the start was his curve. According to pitch fx, Strasburg threw his curve 35 times (34%). 27 went for strikes (77%), 8 were whiffed on (23%), and 9 resulted in strikeouts. According to Brooks, Strasburg had more whiffs on his curve in Wednesday's start than he had in the entire month of April (7), and only one less than the entire month of May (9).
Strasburg began mixing in the curve as the start progressed; the first 8 opposing batters in the game ended their at bats on fastballs, and Strasburg had 0 strikeouts until the opposing pitcher Jacob deGrom came to bat.
Then, Strasburg went on a rampage. He struck out 10 of the next 14 batters, 11 out of 15 including deGrom, and his curve was utterly unhittable. Here are some visuals:
Curtis Granderson was the first position player victim of the Uber Curve: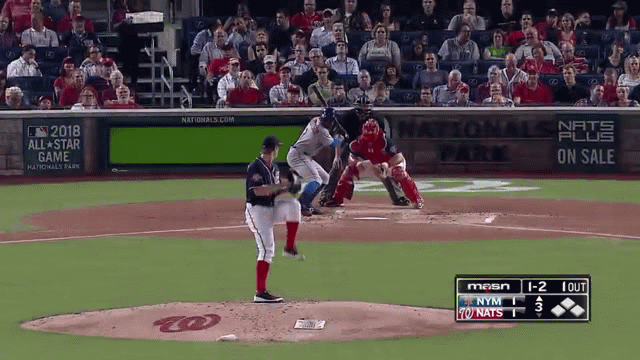 Cespedes went down swinging next:
David Wright thought this pitch may hit him, but it broke over the middle of the plate:
This is where that pitch that caused Wright to flinch ended up, via Brooks Baseball:
Travis d'Arnaud, who has an above average strikeout rate (16%) and swings outside the strike zone rate (25%) cannot hold his swing in time against this curve that drops off a cliff:
Michael Conforto, who has excellent pitch recognition and plate discipline, cannot identify the 3-2 curve: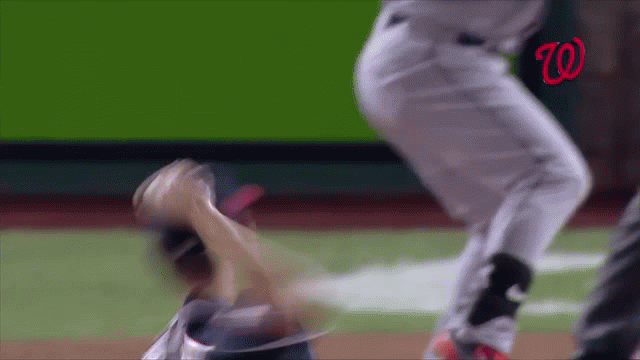 Cespedes goes down swinging again:
And Strasburg gets Conforto again with the curve, this time swinging:
Strasburg's start Wednesday night, against a very good Mets lineup, was nostalgic in some ways; it was reminiscent of the electric pitcher that came up in 2010 and struck out 14 batters in 7 IP in his debut start. There were long stretches during the start Wednesday night where you felt that good hitters had no chance against Strasburg, something that has been missing in 2015.
Strasburg's back problem this year leaves his immediate future uncertain. But for at least one night, the old Strasburg was back, and it was great for baseball.