Noah Syndergaard's two seamer isn't completely new (I've seen him throw a two seamer back during his St. Lucie Mets days in high A ball), but he made a grip tweak at the MLB level with pitching coach Dan Warthen during a bullpen session last week, forming what is essentially a new pitch. Syndergaard had so much success with it in his last start against the Phillies this past Wednesday that he threw his new two seamer 54.5% of the time, up from about a 16% clip for two seamers in starts prior.
The Phillies stacked lefties against Syndergaard (6 out of their 8 position players were LHB), but Thor foiled their attack with fantastic pitch location on the two seamer. He attacked both the inside and outside corners to lefties, starting it at the front hip when he came inside and starting it on the outer third when he went outside.
This is a 97 mph two seamer with fantastic outside corner location that strikes out Grady Sizemore swinging:
Slow motion: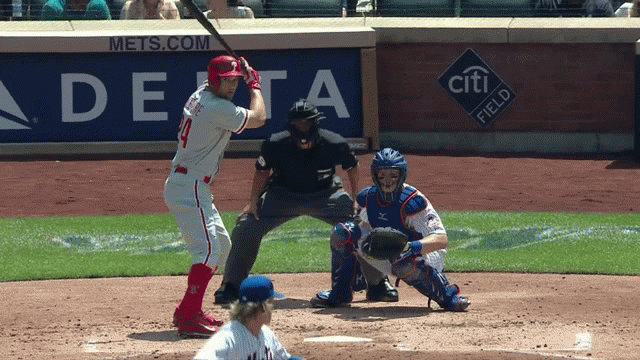 Sizemore has no choice but to swing at the pitch. It appears to be a strike at the moment Sizemore must decide whether or not to swing...
...but it ends up tailing out of the strike zone:
Syndergaard also threw it at the front hip of lefties throughout the game with the goal of grazing the inside corner. Syndergaard told reporters,
"In the first inning, to [Chase] Utley and [Ryan] Howard, I was able to throw some at their front hip and have it run back over the plate."
Here's a look at that. First, to strike out Ryan Howard:
To get ahead 1-2 against leadoff hitter Ben Revere:
Revere had to back his hips away from the plate because he thought the pitch might hit him.
Syndergaard also used the pitch to generate ground balls. Terry Collins said in his post game press conference, "his two seamer today, I think he just learned it last week from Dan (Warthen). They worked on it out in the bullpen. He got ground ball after ground ball with it."
This is the best example of that: a 97 mph two seamer that is hit very weakly on the ground by Ben Revere:
For a grip visual, this is how Syndergaard grips his new two seamer:
According to FanGraphs, Syndergaard leads MLB in average velocity on the pitch at 96.7 mph. He routinely dialed it up to 97-98 mph in the Phillies start and topped out at 100 mph with it. The ridiculous velocity, combined with the movement, it makes it very difficult for hitters to square up. Syndergaard only allowed one hard hit ball in 27 at bats against opposing hitters on Wednesday.
We may be seeing a new, improved version of Noah Syndergaard after only 4 big league starts, and that's bad news for the rest of the National League.