Noah Syndergaard showcased massive developmental gains in 2015, and it happened in stages. First, he improved his pitch sequencing. Earlier in his career, Syndergaard would just pump fastball after fastball when in trouble and try to throw the ball by hitters with big velocity. This was especially a problem in AAA Las Vegas in 2014. In 2015, he developed a much stronger pitch mix by throwing more offspeed pitches in fastball counts, which kept hitters from sitting on his fastball.
The second major step forward was that he developed a ridiculous two seamer, which I wrote about back in May. The two seamer moves so much at such a high velocity that it's very difficult to square up, even if a hitter anticipates fastball. Here's a .gif of it from its debut start, thrown at the front hip of Ryan Howard:
The scary part is that the pitch actually got better as the season went along. Syndergaard starting throwing harder in the playoffs. Instead of sitting 96-97 and topping out at 100, Syndergaard was topping out at 101.5 and averaging 98.5 mph, roughly a 1.5 mph increase. And Syndergaard's velocity plays up even faster than the gun shows because of how much extension he gets towards the plate. Syndergaard releases the ball closer to the batter than most pitchers, so it gets on the hitter like it's thrown about 1 mph faster than it actually is clocked out of the hand. This is termed perceived velocity. A pitch thrown to Adrian Gonzalez in the NLDS had a perceived velo of 102.8 mph, which is insane.
This is one of the best front hip two seamers I've ever seen: a 99 mph two seamer with a perceived velocity of 100 mph and almost 9 inches of run, thrown to Miguel Montero in the NLCS:
Montero backs his hips off because he thinks the pitch might hit him, but it runs well into the strike zone.
The World Series camera angle, which was positioned more behind home plate, gave a really good look at the movement of the two seamer. This one is 99 mph and strikes out Alcides Escobar: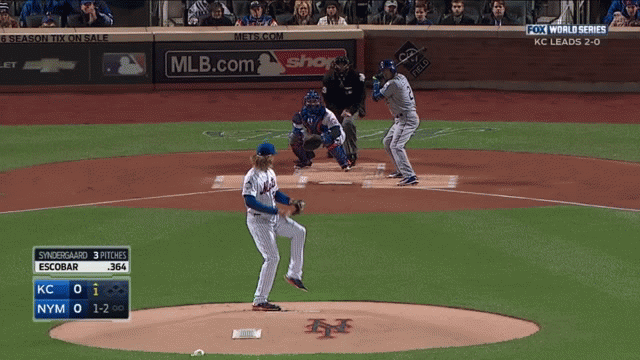 His next developmental gain was the refinement of his change up, which added both velocity and improvements in command. Syndergaard was throwing 92 mph change ups in the NLDS, which is faster than the MLB average fastball velocity of about 91 mph.
This 91 mph change up strikes out Adrian Gonzalez and is located perfectly: it starts at the bottom of the strike zone and falls out as it reaches the batter, forcing Gonzalez to commit to swing with a full count:
This 91 mph, well located 2-2 change up strikes out Corey Seager: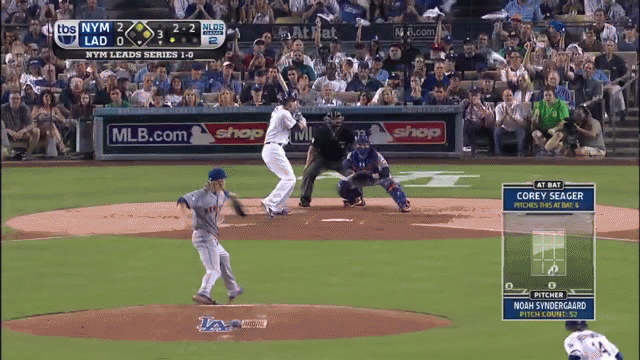 Syndergaard's developed change up also flashed tons of armside run, running away from lefties. This perfectly located 88 mph change up with an amazing 12.3 inches of tail runs out of the strike zone and wipes out Kyle Schwarber in the NLCS: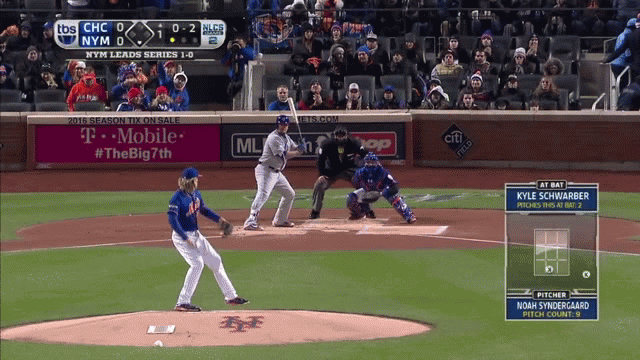 The pitch is commanded so well that catcher Travis d'Arnaud barely moves his glove.
In the second half of the season, Syndergaard made a fourth step forward and started experimenting with the deadly Warthen Slider, and ramped up its use in the playoffs. The pitch averaged about 89 mph and got up to 92 mph. He didn't throw it all that consistently during the regular season, but the slider flashed ridiculousness. In the playoffs, he threw it about 15% of the time in games against the Dodgers and Royals, but didn't really use it against the Cubs. He threw it slightly more often against lefties than righties. If he makes this pitch a staple in his repertoire, I expect him to take another gigantic step forward.
Here's a look at it from his playoff games against the Dodgers and Royals:
An 89 mph slider strikes out Adrian Gonzalez:
An 88 mph slider strikes out Yasmani Grandal: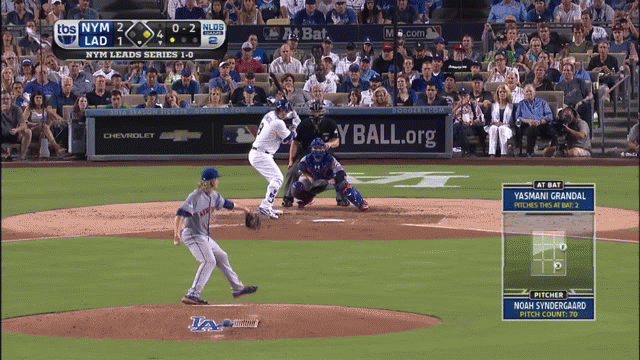 Syndergaard strikes out Grandal again with an 89 mph slider 105 pitches deep:
Slow motion:
Syndergaard only threw the slider twice against the Cubs, choosing more curves and change ups. In the World Series, he said he had a "few tricks up his sleeve" prior to the start, which I suspected was a steady dose of Warthen sliders. In hindsight, he probably meant the dusting off of leadoff batter Alcides Escobar, but regardless, he did reintroduce the pitch in his final start of 2015.
Eric Hosmer strikes out on an 88 mph, 3-2 slider with excellent command. Syndergaard nails catcher Travis d'Arnaud's target with precision:
Alex Rios weakly grounds out on an 88 mph, well located slider that drops onto the bottom of the bat, causing the weak launch angle:
This 89 mph slider completely fools Alcides Escobar: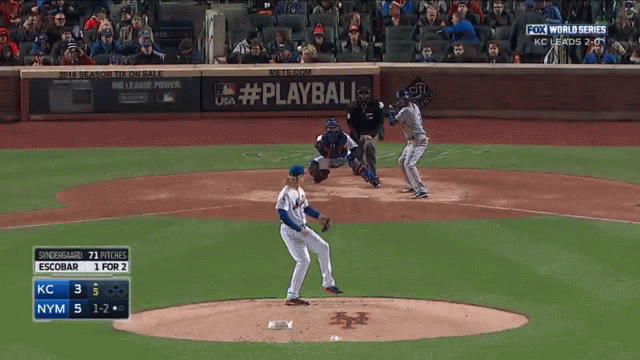 This wasn't necessarily a developmental gain, but his curve also re-took form. Syndergaard threw a rather nasty curve before he hit the PCL, but the park effects in Vegas with the thin air and slick baseballs hurt his curve. Syndergaard said he had to back off throwing the pitch because it wasn't breaking in the PCL like it was prior. By the end of 2015, the pitch was back in full form. This 80 mph, 1-0 curve thrown to Alcides Escobar (immediately after infamously dusting him with a high fastball) is ferocious:
In 3 playoff starts against the Dodgers, Cubs and Royals, along with a 1 inning relief appearance in Game 5 of the NLDS, Syndergaard had a 33% strikeout rate. He held opposing hitters in the playoffs to a .275 slugging percentage, a .058 isolated slugging, and a .217 batting average.
It's possible that Syndergaard continues to take huge leaps forward in 2016, especially with consistent Warthen slider usage. Five plus to plus plus pitches with strong command and long extension is the recipe for one of the game's most elite starting pitchers. And at 6'6, 240 pounds, he's built like the mythical Thor, and appeared to be getting stronger as the season went along rather than tired and worn down. "Thor" might ultimately end up as the best pitcher on the Mets staff, which would be quite the accomplishment with Matt Harvey and Jacob deGrom in the rotation.