Dodgers fans have had a lot to smile about in recent years. First, they had the support of commissioner Bud Selig in ousting an owner who was looting team revenue at the expense of the baseball team to fund personal financial problems. They replaced that awful owner with an ownership group who is committed to winning and uses their revenues to fund a strong baseball product instead of paying off debt. They lured away Rays architect Andrew Friedman, who I think is the best executive in baseball, to run their baseball operations. They have the best pitcher on the planet anchoring one of the best rotations in baseball. And now, they've got a loaded farm system that Dodger fans can dream about for years to come. Baseball Prospectus (BP) labeled the Dodgers farm system third best in baseball in their organizational rankings for 2015, and it's headed by infield prospect and potential impact bat Corey Seager, who was ranked by BP as the 7th best prospect in the game in their 2015 top 101.
BP lists both his hit tool and power tool as potential plus, which translates to roughly a .280s batting average with 20-25 HR. Last year, only one shortstop in baseball had more than 20 home runs with a batting average higher than .280: Troy Tulowitzki. If Seager can stick at shortstop, he's a potential monster hitter at the position.
2014 season
Seager dominated the minor leagues in 2014, posting a .333/.387/.569 slash line with 22 HR, 60(!) doubles, 7 triples and a 152 wRC+ in 654 PA between High A, Double A and the Arizona Fall League.
What is even more impressive about his 2014 season is that Seager showed ability to make adjustments against better pitching. After tearing up A ball in 2013, Seager struggled in High A. BP reported that Seager was "pulling off balls and losing his approach at times" against the more advanced pitching. Seager made the necessary adjustments and roared back:
| | | |
| --- | --- | --- |
| Year | Level | wRC+ |
| 2014 | AA | 154 |
| 2014 | A+ | 167 |
| 2013 | A+ | 46 |
| 2013 | A | 155 |
Doubles may turn into home runs
I highlighted above that Seager hit sixty doubles last season, including the AFL. Excluding the AFL, Seager hit 50 doubles in 118 games, which led the minor leagues. There is a good chance some of those doubles turn into home runs as Seager gets older, too. Seager is just 20 years old, and he's listed at 6'4, 215 lbs. Seager can pack on another 10-15 lbs of muscle as he matures and gets bigger and stronger.
Here are a few examples of some of Seager's doubles that may turn into home runs in the future:
Long .gifs get a little grainy, so here's a shorter, clearer look at the pitch and the contact off the bat: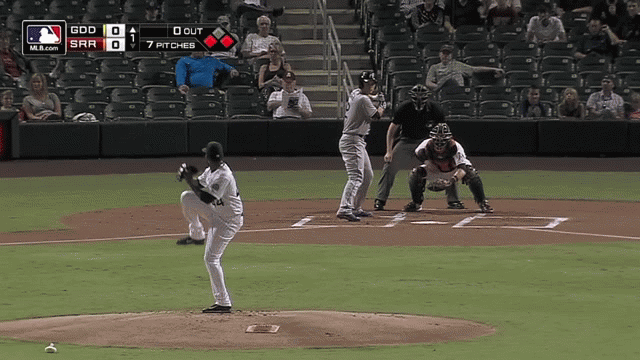 Swing
Seager has a powerful swing that generates a lot of hard contact . Here is a close look at his swing from different angles:
Seager's hands stay level which creates a straight line swing that doesn't have many holes for baseballs to go through, which is important for contact. His head stays on a still horizontal plane (it doesn't move up and down) which is important for tracking the baseball coming in. He uses a small toe tap to load his back leg and transfer his weight forward as the ball is coming in, generating a strong force behind the ball. He also loads his hands, bringing them back before driving them forward, which further adds to the torque he generates on his swing. I love how he uses his lower body to generate extra power.
Seager's torque and hip explosion is impressive for a shortstop. Seager's explosive swing results in a lot of hard contact, like this: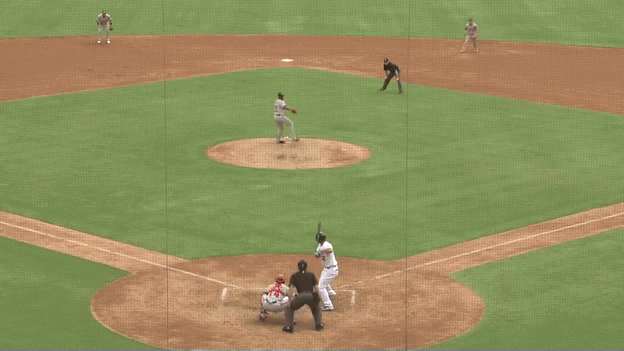 It also results in a lot of home runs. Here is Seager hitting a home run into the parking lot as a 19 year old:
Seager also shows big opposite field power. Here is Seager crushing an opposite field home run over 400 feet to left center in AA (apologies for the terrible video quality, but some minor league parks have broadcasts like this):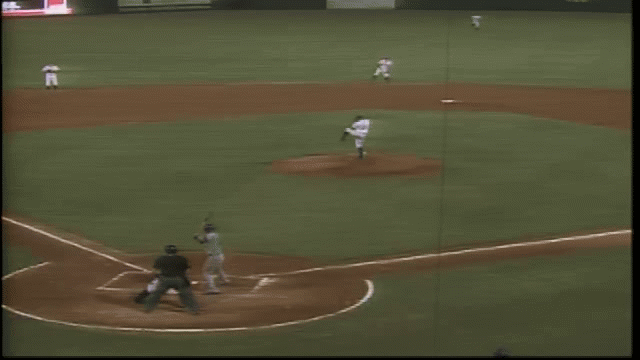 Another opposite field home run, from 2013: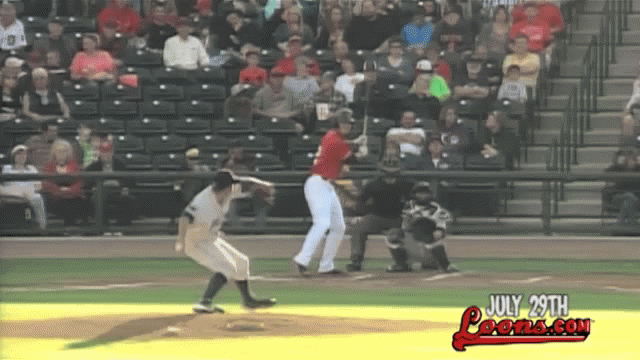 Here is Seager driving an opposite field double into the gap:
Seager in 2015
With Jimmy Rollins playing SS for the Dodgers in 2015, it's unlikely Seager will see time at SS in the big leagues this year. However, there has been talk of Seager playing some 3B this spring, perhaps in anticipation for a big league call up to play that position at some point this season:
Among the topics Josh Byrnes addressed with @THEREAL_DV on Dodger Talk last night was Corey Seager seeing time at 3B this spring

— Eric Stephen (@truebluela) February 19, 2015
We saw the Orioles call up SS prospect Manny Machado to play 3B to help the Orioles in their playoff push back in 2012. Maybe Seager follows a similar path. If Seager does move to 3B full time, his fantasy value would take a hit, but he would still be a top player if he reaches his ceiling. A good comparison numbers wise for Seager's ceiling is Anthony Rendon's 2014 season: .287 BA, 21 HR.
Seager's 2015 ZiPS projection includes 519 MLB PA. From what I understand, this does not mean ZiPS is projecting Seager to get 519 PA in the big leagues in 2015; it means that this is what Seager's numbers would look like if he did attain 519 PA in MLB.
| | | | | | | |
| --- | --- | --- | --- | --- | --- | --- |
| AVG | OBP | SLG | HR | RBI | R | SB |
| .242 | .292 | .408 | 16 | 69 | 61 | 6 |
I don't think the minor leagues can hold Corey Seager too long. If he continues to dominate the sport in the minors, look for him to get called up sometime after the Super 2 deadline to play 3B to help the Dodgers in their push to win the World Series.