I attended 3 out of 4 games from this weekend's Trenton Thunder (Yankees) and Binghamton Mets (Mets) series to get a look at some top prospects: Michael Conforto, Brandon Nimmo and Gavin Cecchini. Mets C Travis d'Arnaud was also rehabbing with the BMets on Sunday. Conforto was called up to the big league team Friday, so I had a look at his (hopefully) final MiLB game. Brandon Nimmo was also promoted to AAA Las Vegas shortly after the series concluded.
Our own Jason Hunt (follow him at @jasonsbaseball), who does an excellent job with fantasy baseball prospect coverage, ranked Conforto 39th and Nimmo 90th on his midseason top 100 fantasy baseball prospect list. Jason gave his thoughts on Conforto's promotion here:
The long, national nightmare is over: the Mets have finally called up outfield prospect Michael Conforto. Maybe watching the team get dominated by the best pitcher in the game on Thursday night was finally the last straw? The team finally decided that Michael Cuddyer was not healthy enough to take up a roster spot and put him on the disabled list, clearing a path to playing time for Conforto. Conforto will likely be the everyday left fielder, and may already be the best hitter in that lineup on some days. He can potentially provide batting average with some solid power production down the stretch, but is jumping up from AA and could struggle.
I am not a scout, just a humble fantasy baseball owner, but here are some of my thoughts and observations:
Michael Conforto
Something that really stuck out to me about Conforto was how much force he generated on the baseball even when not squaring it up. Conforto buried a ball into the ground in his first at bat that had extreme topspin; the spin jumped out at me like no other ground ball did off the bats of anyone else all weekend. I also observed extreme backspin for a ball he popped up; the spin was ferocious, and strongly stood out from any other pop up.
Conforto went 0-5 in his final MiLB game, but narrowly missed launching a dinger to deep CF using a very pretty swing:
Brandon Nimmo

I was pleasantly surprised with how well Nimmo was running in CF after having a knee injury this year. Nimmo moved like a gazelle in the outfield, and his speed and fluidity stood out to me as he was chasing a fly ball in the LCF gap. His baserunning quickness running to+rounding 2B on one particular play jumped out at me, too. There was just something about the way Nimmo exploded so fluidly and quickly running to second base and rounding it, something that stood out from other players in the game.
This is a good look at Nimmo beating out the pitcher to first base for an infield hit:
At the plate, Nimmo hit the ball to all fields, and went up the middle quite well. Here is Nimmo hitting a 98 mph fastball right back up the middle for a single:
I'm a huge fan of Nimmo as a person; his makeup has been described as "special" by Mets VP of player development Paul DePodesta, and you can see why listening to his interviews, where he shown maturity and personality beyond his years. He is also an incredibly hard worker, and will do everything he can to maximize his natural abilities.
The one negative about his game currently is that his power numbers are significantly down this year (ISO of .090 with only 2 HR). Nimmo has said that he is disappointed in his power numbers this year, but thinks it will come with more work and reps at the plate.
Gavin Cecchini
Cecchini put some good swings on the ball in the 12 or so PA that I saw from him. Here he is smoking a line drive double down the LF line in an at bat on Sunday:
Cecchini drove a ball deep to LF in his first at bat Friday night, but was robbed of an extra base hit, and possibly a home run, by the left fielder who climbed the wall to make a jumping catch. Here is a look at that:
Travis d'Arnaud
This view is just for fun, because d'Arnaud is a legitimate impact major league hitter facing Eastern League pitching, a level he destroyed in 2011.
d'Arnaud hitting a laser to CF in his first at bat Sunday: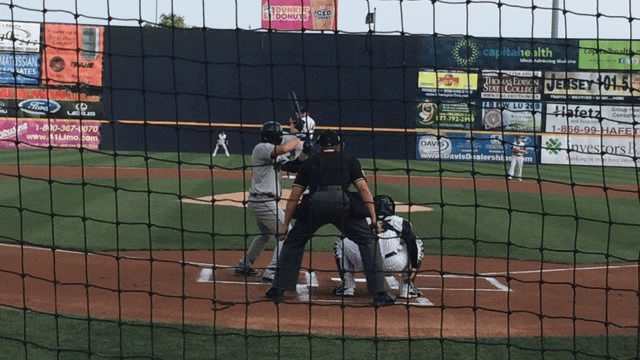 Josh Smoker
Smoker is a guy to keep an eye on for fantasy owners in leagues that use the hold statistic. In my opinion, Smoker may be the best LHP reliever in the Mets organization right now with Jerry Blevins injured, and will be called up at some point this year. Smoker completely embarrassed a hitter he faced with 95-97 mph heat and a nasty splitter/change up, and nobody had anything for him in this game. Take a look at this putrid swing against the split/change in an 0-1 count:
And the 95 mph fastball to strike him out on a 2-2 pitch:
The batter ends up shaking his head after both pitches, almost thinking to himself, "that is unfair".
A scout sitting in front of me had the same velocity readings on his gun as the scoreboard, so Smoker's velo was legit.
Robert Gsellman
Gsellman was very impressive, generating a lot of weak to medium contact by throwing tons of good low 90s sinkers and mixing it up with some hard four seamers and a filthy 78-81 mph curve. Gsellman at one point touched 97 mph with his four seamer, a velocity reading that was really impressive. There was a noticeable difference in the sound the catcher's mitt made between Gsellman's sinker and his four seamer; his sinker hit the glove like a pillow, and his four seamer was quite loud.
One observation I had was that Gsellman tipped off his hard four seamer a little bit because the effort in his delivery noticeably picked up when throwing it. If I could see it from the crowd, the hitters probably could, too. I think hitters caught onto this because they made louder and much more solid contact on his four seamer than on any of his other pitches, and took more comfortable swings at the pitch.
Gsellman flies under the radar because doesn't really miss a whole lot of bats and has a below average 13% K%, but he does a great job of generating a lot of harmless contact. Look at this spray chart from his start, via baseballsavant.com:
Gsellman allowed zero extra base hits in the start and I can't recall any types of screaming contact that threatened him.
Here is a look at some of his pitches:
A 92 mph sinker that generates a weak ground ball:
Gsellman had no issues throwing his nasty curve for strikes, and doubled up multiple hitters on it to start off their at bats. Here are some of his excellent curves, which ranged from 78-81 mph: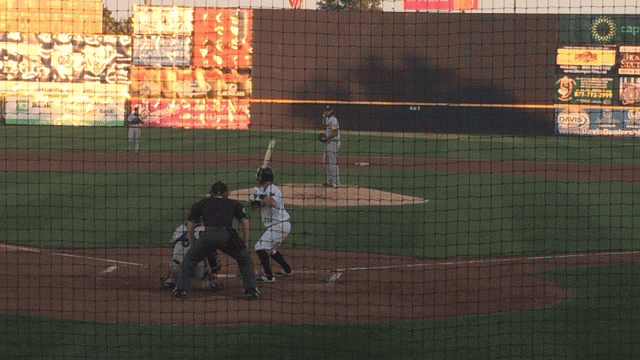 Seth Lugo
Lugo is another Mets arm that was impressive. He threw all of his pitches for strikes in all counts and changed speeds on the hitters quite well. All of Lugo's pitches varied roughly 6 mph at times: his fastball ranged from 88-94 mph, his curve 74-80 mph, and change up 80-86 mph. He kept hitters off balance with the speed changes and strong pitch sequencing. The way Lugo changed speeds on all of his pitches reminded me of what Greg Maddux used to preach about changing velocities on pitches to disrupt hitter timing. Opposing batters couldn't time up Lugo well.
This is a rather nasty 80 mph change up Lugo threw to completely fool a batter:
A perfectly located 92 mph fastball for a strikeout:
Here is one example of an excellent pitch sequence from Lugo. After falling behind 1-0, Lugo threw a 1-0 change up to even the count:
Then he threw a 1-1 backdoor curve to get ahead 1-2:
Then he threw an elevated 92 mph four seam fastball to get a late swing and strike the batter out swinging: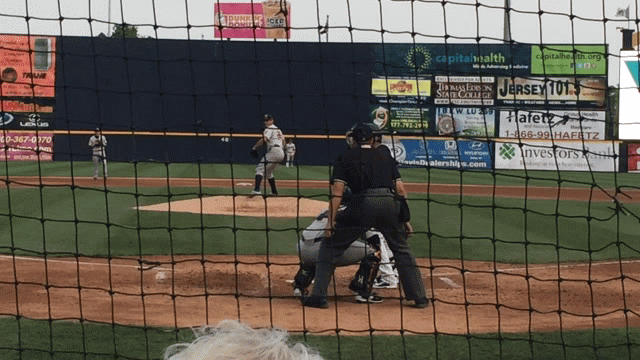 92 mph is not overpowering, but it can be when used in conjunction with good sequencing and changing pitch speeds and eye levels, which Lugo did a great job of.
Final Thoughts
This may be biased because I had my best view of the players behind home plate on Sunday, but I was most impressed with Seth Lugo. His pitchability is excellent, and he can consistently dial it up to 94 mph on his fastball when he wants to. His curve broke across two planes and reached as high as 80 mph, and his change up made some hitters take very foolish swings. The fact that he threw all of his pitches for strikes in all counts was very impressive. Lugo is about to turn 26 years old, though, so the clock is ticking.
Robert Gsellman was another very impressive player who probably has a higher ceiling than Lugo because of his age (22) and his bigger arm. I did not expect Gsellman to flash the kind of heat and nasty curves that he showed during the start, and it makes me suspect that there's more strikeout potential in his arm than the stat line would indicate.
I love Brandon Nimmo, but the fact that he isn't hitting for power yet is a little concerning. An isolated slugging (ISO) under .100 isn't really what you want. He did seem to be deliberately shortening his swing up often to hit singles, though (like in the .gif above of him going up the middle), so maybe there's some untapped power in his bat that can be uncovered with some more work and mechanical adjustments. Or maybe his knee is bugging him and he can't generate the lower body torque in the box that he needs to hit for power. The one great thing with Nimmo is that you know he is going to work as hard as he possibly can to be successful, so a lot of progress can happen between now and this time next year.
You can follow me on twitter @TimFinn521