If a fantasy owner owns Jose Fernandez in a keeper league, don't you dare consider trading him for anything less than a king's ransom.
Fernandez struck out 13 of the 27 batters he faced over 7 innings last Sunday against the Cubs, highlighting what has been an incredible season for him as he continues to make his return from a 2014 Tommy John procedure. Fernandez has now struck out 138 of the 367 batters he's faced this year, a 37.6% strikeout rate.
Fernandez's current strikeout rate through 15 starts in 2016 is comparable to prime Randy Johnson and prime Pedro Martinez, two guys who just went into the Hall of Fame last year. In fact, the highest strikeout rate recorded by a qualified starter in a single season prior to this year was 37.5%, by Pedro Martinez in 1999. That means that if Fernandez keeps this pace all season, he will become the single season strikeout rate king for a starting pitcher. Of course, any historic pace is extremely difficult to maintain, and doesn't mean he will match it going forward; it's just some perspective for how good he's been to this point in the season.
The bulk of Fernandez's strikeouts have come on his breaking ball, which PITCHf/X labels a curveball. Fernandez has struck out 87 batters with his curveball this year, which is by far the most in baseball on a curve. What makes Fernandez's breaking ball so special is the late sharp break. The pitch looks like a fastball at first before ferociously breaking late, making the deception a big reason for the effectiveness of the pitch.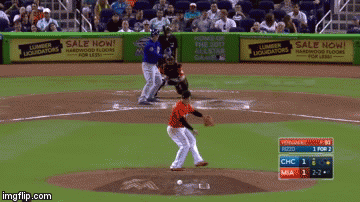 Fernandez plays his curveball off his mid to high 90s fastball, and batters often have a hard time differentiating between the two before it's too late.
Fernandez's 2016 ERA currently sits at 2.28, with his FIP at 1.95. Only 7 starters have run a FIP under 2 in a single season in the live ball era, names like Pedro Martinez, Clayton Kershaw, Tom Seaver, Bob Gibson, Sandy Koufax and Dwight Gooden. Jose Fernandez and Noah Syndergaard both have FIPs under 2 in 2016, and would join that rare list if it holds over the second half of the year.
Fernandez's start to his career has been historic for his age. Among starting pitchers in their age 23 seasons and younger, Fernandez's 2.37 career ERA ranks best by a starting pitcher in the live ball era, which dates back to 1920. His adjusted ERA- of 62 also ranks best.
Jose Fernandez has generational talent in his right arm, backed by ERA, adjusted ERA, and strikeout rate. Keep that in perspective in keeper leagues.