A few of my bold predictions from last spring look pretty ugly a year later. I think the nature of a bold predictions piece is to predict things that are less likely to happen in an effort to be bold, so you're bound to look foolish for some of them. If everybody else was predicting the same things, it wouldn't be a bold prediction because it wouldn't stand out from the rest.
Some bold predictions pieces around the web tend to be wildly irrational and don't contain much substance for why the bold prediction will actually happen. I will try to make this a little more bound in reason while maintaining the reach necessary to classify it as "bold". So I wouldn't necessarily bet money on any of these things happening, but I have some reason to believe they're achievable.
I'm going back to the well for my first bold prediction:
Matt Harvey

will finish as a top 3 starting pitcher

I'm biased, because I am a deranged Mets fan and Harvey is my favorite pitcher of this generation, but I think this one is rooted more in objectivity than bias. In my opinion, the 2013 Matt Harvey, the pre surgery one, was one of the greatest pitchers in MLB history. His 2.00 Fielding Independent Pitching from that season supports my opinion; it's 9th best since 1950. I picked him to finish as a top 5 pitcher last year coming off the surgery, but what I didn't realize was that his throwing wrist was left weakened after the doctor took a ligament from it to use to reconstruct his UCL in his elbow. That made it difficult for him to spin his toxic slider, and the pitch wasn't nearly the same in 2015 as it was prior to the surgery.

That's changed this spring. Check out this 91 mph slider he strikes out Christian Yelich with: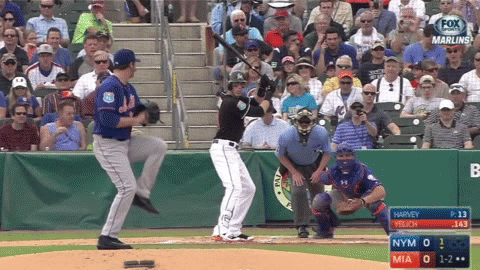 Harvey said he focused on strengthening his wrist this offseason, and it's allowed him to get a feel for the slider again. He's also gotten some of that late life back on his fastball, the type of life that makes the pitch explode on hitters.
It'll be 2.5 years since his arm was cut, and I expect Harvey to shove this year. Harvey is the 11th SP taken by Yahoo ADP at the time of writing this, and I think there's a good shot he finishes way ahead of that.
Troy Tulowitzki

will rebound in a big way and finish in the top 30

It would have seemed absurd a year ago to say that Troy Tulowitzki dominating at the plate is a bold prediction, but his production dropped off significantly last year. He finished 132nd overall in Yahoo's 5x5, behind Carlos Correa, who didn't even debut until June. His wRC+ fell to 100, his lowest since 2008, 33 points behind Carlos Correa's 133, and 10th among shortstops with at least 400 PA. He's 66th overall in Yahoo ADP, and I've seen him ranked lower than that in some rankings lists. He's now 31.5 years old, and it's not crazy to suspect he's on the downside of his career now, especially after hip surgery in 2014.

But what has got my attention is that Tulo changed the way he loads as the ball is delivered to the plate this past winter, using a leg kick to get better timing and more forward momentum into the baseball. Teammate "Joey Bats" Jose Bautista's explosion came using a very similar mechanical change.
Tulo's new swing from https://t.co/vBa22zUf08 pic.twitter.com/Hl5Wh4X9Tn

— SaberCoach (@SaberCoach) February 24, 2016
He isn't far removed from a 900 PA sample of a 153 wRC+ (adjusted for Coors park effects) and 46 HR over 217 games between 2013 and 2014, either. And while leaving Coors obviously hurts his non park adjusted stats, Rogers Centre's hitter friendly environment is a nice landing spot.
Of course, Tulo is very brittle, and there's a chance he gets injured at some point and makes me look bad, but I love the way his new swing looks, both in terms of timing and pop. I don't think he'll finish as the #1 shortstop, because Carlos Correa is a monster, but I think he could be in line for a top 30 overall finish.
Noah Syndergaard

will finish as a top 10 starting pitcher

"Thor" has a chance to be one of the best pitchers in the sport right now, and that's not something I would have anticipated saying a year ago. The development he's had in the last year is incredible. He throws 5 plus to plus plus pitches: four seam and two seam fastballs that sit 97 mph, a hellacious curve, an excellent change up, and a developing 90 mph slider that looks like a fastball before breaking. His command improved tremendously as the season went along last year, especially on his offspeed pitches, and so did his pitch sequencing. I love how he pounds the strike zone with his electric stuff and doesn't walk many hitters (5% walk rate as a rookie). Solely writing about him doesn't do him enough justice. Go look at some .gifs I made back in early March. The link also contains more detail about why I like him so much.

The next three I have written about in previous articles this past week, but here's a rehash:
Daniel Murphy

will continue his power hitting ways and finish in the top 75

I wrote in depth about Murphy in early January here. The point was that he made a tangible change at the plate with the help of hitting coach Kevin Long, and it led to a surge in extra base hits. Murphy's isolated power the last 3 months of 2015, including the playoffs, was a ridiculous .273. Baseball fans remember him for his amazing postseason, but his rise in power hitting started a few months before the postseason began.

Murphy now loads in a crouched down stance, using his lower body more in his swing, and gets his lead foot down much earlier, which puts him in much better position to time up the ball and turn on it as it's delivered to the plate. He has matched this same technique this spring and carried it over to Nationals camp, and when I've watched him, he's been in the same position to turn on the ball and drive it.

Murphy obviously won't be a .270 ISO hitter in 2016 like he was for the last 3 months of 2015 (including playoffs), but I think he's going to sustain more power in his profile, a lot more than the .130 ISO/9 home run per season average that we've seen from him in his career prior. I wouldn't be surprised if he reaches 20 home runs in 2016. That's strong power for a 2B, and as the 12th 2B off the board in Yahoo ADP, at pick 150 overall, Murphy might provide a lot of value for fantasy owners in drafts, especially if he's slotted in a favorable lineup position. Finishing inside the top 100 looks very possible to me, and I'll shoot for top 75 to make the prediction "bolder".
Joe Ross

will finish as a top 40 starting pitcher

It's hard to fathom how the Nationals managed to convince the Padres (and Rays) to give them both Joe Ross and Trea Turner in the same deal. I absolutely love Ross's stuff; his fastball sits 93-95, can reach 97-98 mph with bowling ball downward movement and a lot of armside run (about 9 inches), and his mid 80s slider is just filthy and generates a ton of swing and misses. His slider seems to be so tight that hitters have a hard time picking it up and laying off it. This is Ross striking out Daniel Murphy, that of a minuscule 7% K%, with an 87 mph slider:
The Nationals have talked about a mechanical tweak that Ross made in their minor league system that helped him find success. Harrisburg Senators pitching coach Chris Michalak moved Ross from the first base side of the rubber to the third base side of the rubber to increase deception, making it more difficult for hitters to pick up the ball as its being delivered to the plate. He also changed the way Ross pushed off the rubber by moving his foot placement, making his delivery more efficient and more true to the plate.
Ross's filthy stuff led to a swinging strike rate of 12% last year spanning 13 starts, 18th best among starting pitchers with at least 70 IP in the big leagues last year. He generated ground balls at a 50% rate, with a 22% strikeout rate, a 6.7% walk rate, and a 3.64 ERA, all above MLB average. His fastball moves so much that, combined with the velocity, it appears to be very difficult to square up.
By current Yahoo ADP, Ross is going about 240th overall, the 80th or so SP off the board. I think there's a realistic shot he finishes as a top 150 overall player, and top 40 starting pitcher. As the 80th SP off the board in Yahoo, that's potentially great value.
Justin Turner

will finish as a top 100 player

Turner made a swing adjustment the offseason before he joined the Dodgers and has hit to an elite level since, but you wouldn't know that based on his current ADP of over 200 in Yahoo. Turner has 761 PA with the Dodgers and has hit to a .314/.384/.492 slash with a 148 wRC+ and .178 ISO, and every time I watch him I feel like he's hitting line drives everywhere. A 26% line drive rate with the Dodgers supports that observation; it's 8th highest among players with 700+ PA the last 2 seasons. To put Turner's productivity in perspective, he has the 11th highest wRC+ among hitters with at least 700 PA since 2014.

Turner is knocked down on 5x5 draft boards because his counting stats like runs and RBIs the last 2 years haven't matched his elite slash line, and that's partially because the Dodgers have limited his playing time. With more regular playing time under a new manager, Turner's R and RBI will likely go up (although his slash line may drop with more exposure). I believe in his skills turning into strong fantasy value if he's given enough playing time.

I wasn't 100% sold on Turner this year until recently, but it wasn't skill related: I was scared off by the microfracture surgery he had on his knee this offseason. That is typically a rough surgery for athletes, but Turner says his knee feels good:
Justin Turner with a solo HR. 5 for 10 in Cactus League. Said Microfracture surgery gave him relief, doesn't worry about knee anymore

— Bill Plunkett (@billplunkettocr) March 21, 2016
Spring training statistics are generally nonsense; what's important is that Turner feels better than he did last year. Turner's current Yahoo ADP is over 200, and while he might be limited during the first month as the Dodgers build him back from the surgery, I think there's a strong chance he significantly outperforms that draft slot in 2016. I'll go with top 100 to make it bold.
So there you have it. Hopefully I don't look too stupid 6 months from now.
Follow on Twitter @TimFinn521