Joe Ross
Yahoo ADP: 239 overall
Average round: 23
80th SP off the board
It's hard to fathom how the Nationals managed to convince the Padres (and Rays) to give them both Joe Ross and Trea Turner in the same deal. I absolutely love Ross's stuff; his fastball sits 93-95, can reach 97-98 mph with bowling ball downward movement and a lot of armside run (about 9 inches), and his mid 80s slider is just filthy and generates a ton of swing and misses. His slider seems to be so tight that hitters have a hard time picking it up and laying off it. This is Ross striking out Daniel Murphy, that of a minuscule 7% K%, with an 87 mph slider:
Ross got the better of Andrew McCutchen with sliders in a start in mid June and struck him out twice with the pitch. The first time: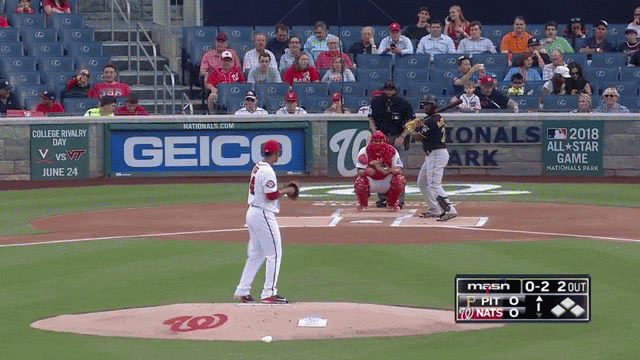 The Nationals have talked about a mechanical tweak that Ross made in their minor league system that helped him find success. Harrisburg Senators pitching coach Chris Michalak moved Ross from the first base side of the rubber to the third base side of the rubber to increase deception, making it more difficult for hitters to pick up the ball as its being delivered to the plate. He also changed the way Ross pushed off the rubber by moving his foot placement, making his delivery more efficient and more true to the plate.
Ross's filthy stuff led to a swinging strike rate of 12% last year spanning 13 starts, 18th best among starting pitchers with at least 70 IP in the big leagues last year. He generated ground balls at a 50% rate, with a 22% strikeout rate, a 6.7% walk rate, and a 3.64 ERA, all above MLB average. His fastball moves so much that, combined with the velocity, it appears to be very difficult to square up.
By current Yahoo ADP, Ross is going about 240th overall, the 80th or so SP off the board. I think there's a realistic shot he finishes as a top 150 overall player, and top 40 starting pitcher. As the 80th SP off the board in Yahoo, that's potentially great value. Ross has the stuff to rack up strong strikeout totals, and I think he'll pitch to an above average ERA.
Aaron Nola
Yahoo ADP: 242 overall
Average round: 23
88th SP off the board
Nola, like Ross, is one of the more impressive young arms I saw last year. I especially like his curve; the pitch generates an above average swinging strike rate, and some of the National League's best hitters routinely took poor swings at it.
This 78 mph curve strikes out Kris Bryant:
This curve hits Anthony Rizzo but still gets him to swing through it:
His fastball is also good; it sits about 91 mph with movement and tops out around 95.
Nola finished last year with a 3.59 ERA over 13 big league starts, generating a 21% strikeout rate, a 48% ground ball rate, and an 8.5% swinging strike rate, while limiting walks to an above average 6% rate. People who watch Nola regularly say his command is good, and he commands his curve especially well.
He has plenty of room for further growth, and while the Phillies offense will likely severely limit his win total for standard leagues, I think Nola can realistically turn in an above average ERA with an average K% in 2016, making him valuable even without a strong win total. For quality start leagues, he looks even better. As the 88th SP off the board in Yahoo, Nola looks to me like a good bet to bring back strong value at the back end of drafts.
Follow on twitter at @TimFinn521