Something is noticeably different about David Wright at the plate this spring. He has ditched his toe tap for a leg lift.
From the World Series in October:
From Friday, March 18: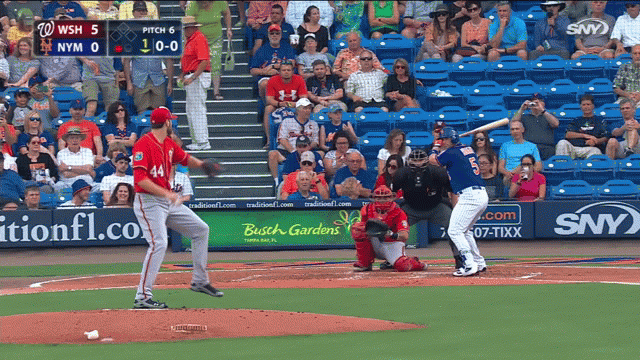 The SNY broadcast mentioned that Wright believes the change is going to help with timing up the ball, and that the adjustment isn't so much related to his back. Wright, of course, had his baseball life turned upside down with his spinal stenosis diagnosis last year. He had to alter the way he prepares to play baseball, and goes through a 2.5 hour routine before games just to prepare his body.
The new leg lift might also be an effort to generate some more efficient force in his swing using a little more forward momentum. Wright recently told men's fitness:
"I can't get under a squat rack with 300 pounds anymore because it would just crush my back."
It makes sense that if Wright can't train with heavy weights anymore, using more forward momentum into the baseball may help somewhat compensate for lost strength.
I think Wright will be productive when he's on the field this year, but I don't think he's going to play often enough to warrant significant fantasy value in seasonal leagues. The Mets have suggested that 130 games would be the limit for him this year, but some within the organization are less optimistic. The NY Post reported that one Mets official would be surprised if Wright plays even 100 games this year.
When he does play, I expect Wright to hit for average and get on base behind a high walk rate, but it's tough to envision him being able to drive the ball like he used to with the back condition. I think a power line similar to his 2009 season, where he hit 10 home runs with a .140 ISO after briefly changing his approach because of the gigantic original Citi Field dimensions, is probably about what a fantasy owner can expect power wise this year.
Wright's greatest fantasy value will come in daily leagues against left handed pitchers. Wright has destroyed lefties in his career to a .340/.433/.572 slash, and continued to hit LHP well even after he returned from his back injury, registering a .207 ISO.