The 2013 version of Matt Harvey was, in my opinion, one of the greatest pitchers in MLB history. A large part of this was a toxic 90 mph slider, dubbed the "Warthen slider", named after pitching coach Dan Warthen, who taught the pitch to Harvey in a bullpen session before his 2012 debut start in Arizona. Harvey played this slider off his mid to high 90s fastball and made hitters heads spin. The Warthen slider is thrown like a fastball, but with a different grip, which is good for a few reasons. Firstly, it doesn't strain the elbow like a traditional slider does. Secondly, it looks like a fastball to the hitter as it approaches the plate, before diving off a cliff and fooling hitters with its break.
Harvey dominated lefties in 2013, even more so than righties, and a big part of this was that Harvey threw his obscene slider at the back foot of lefties and got a ton of swings and misses with it. Harvey held lefties in 2013 to an amazing .174/.216/.240 slash with a .204 wOBA, a 30.4% K%, and a 1.61 FIP. His wOBA vs lefties was about 65 points lower than his .269 wOBA vs righties, and his K% was also notably higher vs LHB (30.4%) than RHB (24.9%).
In 2015, coming off Tommy John surgery, the slider wasn't the same. Harvey's wOBA vs LHB jumped from .204 in 2013 to .295 in 2015, largely because the slider wasn't as lethal of a weapon. It flashed signs of life late in the season, especially in his final start in the World Series against the Royals, but I don't remember it ever being as nasty as it was in 2013.
That appears to be changing this spring, though. Harvey said he is convinced that the surgery, which took a ligament from his right wrist to replace his torn UCL, weakened his right wrist, which caused the problems with the slider last year. He said that he focused on his right wrist this spring, and that it's allowed him to get a feel for the slider again.
Both Terry Collins and Dan Warthen have said that they've seen the return of his vintage slider in bullpen sessions before games started, and they weren't kidding. This 91 mph slider was thrown to Christian Yelich yesterday: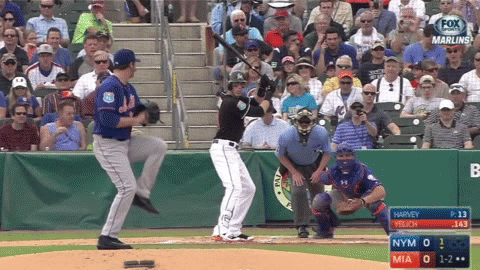 I tweeted out that same .gif yesterday afternoon, and the reactions to the pitch were classic.
So Matt Harvey's 91 mph back foot slider to lefties is toxic again (NSFW) pic.twitter.com/1tVS6M5dXR

— Timothy Finnegan (@TimFinn521) March 13, 2016
Some of my favorites:
From the great Maggie Wiggin of metsblog.com:
WHAT THE HELL IS THIS https://t.co/b6T2NXYBzh

— Maggie Wiggin (@maggie162) March 13, 2016
Good god thats moving https://t.co/JNDmB0MRCB

— Corey (@CoreyNYJets) March 13, 2016
THIS IS PORN https://t.co/h0nriTr63X

— Mark (@TooGooden16) March 13, 2016
I literally went into a coughing fit after watching RT @whutyearisit: i want this on repeat for the rest of my life https://t.co/MytDDxBMvp

— Y'all Ugly (@SobLucci) March 13, 2016
i want this on repeat for the rest of my life https://t.co/y8jQLKRQLp

— stephpedes- 21 (@whutyearisit) March 13, 2016
Omg that's just nasty https://t.co/H17WjvpD08

— JT. Terán (@jt_teran) March 13, 2016
@The_Dream_24 @TimFinn521 bro nobody's hitting that idc who you are

— Qui Gon Ging (@DevinDunsing) March 14, 2016
My goodness #Mets https://t.co/MKE7KgOIV7

— Dan Silverman (@dsilverman95) March 13, 2016
OMFG....I felt that in all the good places https://t.co/30w04rsuM8

— Christina M (@ChristinaMets15) March 13, 2016
Oh my god.. Filth https://t.co/fYZVT3emXu

— THE DON⚾️ (@_dfigueroa_) March 13, 2016
There were also a few rated R responses that I cannot publish on this website.
Warthen and Collins also noted more late explosion on Harvey's fastball, which was lacking for most of last year. Warthen, who reporters say is a straight shooter, thinks that Harvey will be in contention for the best pitcher in baseball in 2016 with the return of his slider and late fastball life. This fantasy baseball writer agrees. If that slider and late fastball life are truly back for the long haul, Harvey will be right there with the most elite pitching in the sport, and a low 2's ERA is something that could be on the horizon for him.