Every year, I like to look for players who played through nagging or painful injuries in the season prior, resulting in below career average results. I think these players can be good gambles to rebound if: 1. they've fully healed and 2. they aren't over the hill. I like targeting these players because you can generally get them at a discount on draft day, resulting in strong value if they return to something near their career norms.
Hanley Ramirez is the player that sticks out most to me right now. He was one of the biggest busts of the 2014-15 free agent class judging by final offensive production last year (0.8 oWAR, 89 wRC+), but in my opinion, his season really needs to be examined in two separate parts.
The first part is from the time he signed with Boston through May 4th. Boston moved Hanley off SS and into a corner outfield slot, and Hanley changed his body type to reflect the position change. He came in bulked up, looking much larger and stronger physically (about 25 lbs of muscle stronger). This picture was taken in March by Steve Mitchell of USA Today Sports:
This appears to be a rather huge physique change from his Dodger and Marlins days.
Hanley's added muscle translated to some absurdly good power numbers during his first 100 PA of the season, through that May 4th endpoint. He hit to a ridiculous .326 ISO, with a .283/.340/.609 slash, and 10 home runs before he reached 100 PA.
Then, on May 4, Hanley crashed into the LF wall in Fenway and jammed his shoulder.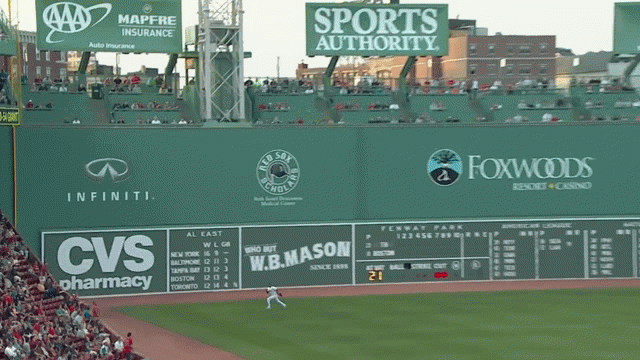 Hanley kneeled in the outfield in pain for several minutes, clutching his left shoulder; you can see how much pain he was in here:
and eventually walked to the dugout like his arm was in a sling:
This set forth a cascade of injuries for Hanley. First, he decided to play through it rather than sit out long term, and re-entered Boston's lineup on May 9, using just four days of healing time. Hanley played the rest of the season with the bothersome shoulder before getting shut down in September with a right shoulder problem (perhaps due to overcompensating for his bad left shoulder). In the middle of that, he got drilled on the hand by a line drive off the bat of Xander Bogaerts, which he admitted affected his power.
It's not surprising that a hitter who tries to play through several painful upper body injuries will be less productive at trying to hit major league pitching. According to baseballsavant.com, Hanley had a massive drop off in the velocity behind his batted balls after his original May 4th shoulder injury:
| | |
| --- | --- |
| Shoulder injury | Exit Velo |
| Pre | 97.6 mph |
| Post | 89.3 mph |
It appears that the shoulder injury prevented Hanley from getting the same force behind his swing.
The huge drop in exit velocity unsurprisingly led to a massive drop in production:
| | | | | | |
| --- | --- | --- | --- | --- | --- |
| Injury | ISO | wRC+ | AVG | OBP | SLG |
| Pre | .326 | 149 | .283 | .340 | .609 |
| Post | .133 | 70 | .239 | .275 | .372 |
It's important to note to not bank too much on the pre injury stat line. First, small sample; it was only 103 PA. Second, Hanley's home run to fly ball ratio in that first sample was 42%; according to the FanGraphs database, nobody has ever run a HR/FB% that high for a full season as long as the stat has been tracked. The highest was Ryan Howard's 2006 season, at 39.5%, followed by Jim Thome's 2002 35.4%, and Howard again in 2008 at 31.8%. Unless Hanley put together a historic season at squaring up fly balls, that rate was probably going to fall.
But I think there's a good chance Hanley would have continued to have a highly productive offensive season had he not injured his shoulder. The fact that he came in looking physically larger and stronger is a tangible change from previous seasons, and the batted ball velocities off his bat certainly backed that up before the injury. In fact, Hanley led baseball in exit velocity prior to his shoulder injury, and second place wasn't close:
1. Hanley Ramirez, 97.6 mph
2. Adam Jones, 94.8 mph
3. Nelson Cruz, 93.6 mph
4. Josh Donaldson, 92.9 mph
5. Freddie Freeman, 92.9 mph
There has to be some concern about how his shoulder(s) will hold up in 2016, though. A shoulder injury with the Marlins appeared to be the reason behind a lackluster 2011 and 2012, and it took a while for him to regain his swing and become highly productive again. In fact, I remember a Buster Olney report that Billy Beane was offered Ramirez by the Marlins in exchange for something very reasonable (I think something like half of the remaining money on his contract without a huge prospect ask), but Beane declined because of how different Hanley looked at the plate from his peak years with the Marlins. Those shoulder issues lingered for a while; will this one linger into 2016, too?
Hanley's current ADP according to stats.com is 138 in NFBC leagues. The health of his shoulder is the wild card. With a fully healthy body, I can see a 30 HR, 100 RBI type year, with an above average batting average and on base percentage, and an OPS in the mid .800s. I'm comfortable drafting Hanley at his current ADP because of the big upside.
Follow Tim on twitter at @TimFinn521