Reminder: Always double check the lineup card before rosters lock to make sure that a player you've chosen to roster is playing that day, and check the weather to make sure your players won't get rained out of their game.
There are only 8 games today, including just 6 in the main tournament, so pickings are much slimmer than usual. I usually like avoiding Thursday games because there are less quality players to choose from, but a few guys stand out as strong plays for me for a fantasy owner that wants to play today.
My favorite game to target is the Cubs-Phillies game. Jake Arrieta ($12,200) pitches for the Cubs against a rotten Phillies team that is starting a significantly below average pitcher. The Phillies have the worst run differential in baseball at -183 and Arrieta will be a strong bet to get the win. Phillies batters have the third worst wRC+ vs RHP at a putrid 85 and strike out at an above average 20.2% rate. They also have the third worst ISO vs RHP at .136. Arrieta takes a 2.03 ERA, 2.46 FIP and 26.8% K% into his start against the Phillies, and looks to be a great bet to prevent runs at a high level, go deep into the game, generate a strong strikeout total and get the win.
Arrieta has blossomed into one of the gem starting pitchers of baseball after leaving the Orioles organization and becoming a Cub; his elite pitch arsenal of mid 90s four seam+sinker, low 90s slider and curve give hitters almost no chance when he locates his pitches, and his hard slider is one of the nastiest pitches I have seen anybody throw all season. This is a visual what I mean: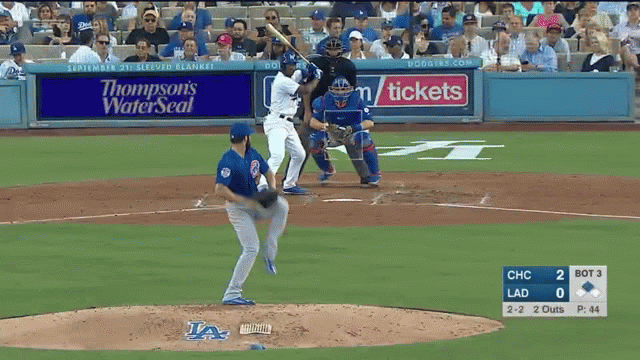 For a 92 mph pitch to move that much is crazy.
For hitters, a good punt play that sticks out to me to help fit Arrieta into a lineup is SS Jhonny Peralta ($2,200). Peralta is priced at the minimum and faces a below average LHP in Great American Ballpark. He looks to have a good chance to perform based on the pitcher handedness, pitcher effectiveness and park upgrade. Peralta has hit LHP to a 130 wRC+ and .222 ISO in about 300 PA since the start of last year. The projection systems vary on Lamb the rest of the way; ZiPS pegs Lamb at a significantly below average 5 ERA the rest of the way, while Steamer has him just under 4, which is about average this year.
You can follow me on twitter at @TimFinn521