Kevin Goldstein, formerly of Baseball Prospectus and currently with the Houston Astros scouting department, used to say that you could count "1s" on your hands because there were so few in the game. "1s" are starting pitchers that are among that rare, elite tier of pitchers that dominate the sport; the crown jewels of baseball pitchers. Jacob deGrom is unquestionably in that elite category now. His ERA sits at a ridiculous 1.98 as of this morning, with his Fielding Independent Pitching at 2.67. It is August 19, about 6 weeks from the conclusion of the regular season. According to FanGraphs, in the last 50 years, only 30 qualified starting pitchers have finished a full season with an ERA under 2, and deGrom (along with Zack Greinke) has a legitimate chance to be the 31st.
deGrom is one of the most incredible pitchers to watch perform his craft pitch by pitch. His stuff is electric, but he doesn't get by just on electric stuff; his command is strong, his pitch mix is terrific, and his sequencing of his elite stuff makes hitters have no idea what is coming next. deGrom throws 5 high end pitches for strikes in all counts and situations; a four seamer that averages roughly 95 mph and touches 98 mph, a two seamer that is a tick slower but moves more, the famous 90 mph "Warthen slider", a low 80s curve and a mid 80s change up.
Here are two small examples of the way deGrom keeps hitters guessing; an 86 mph, 0-1 change up to LHB James Loney from a game against the Rays in early August:
Loney does not anticipate the change up and is completely fooled.
And a first inning pitch sequence that he started Grady Sizemore off with in that same game, via Gameday:
deGrom's four seamer is particularly effective up in the zone, where it seems to have late explosion on hitters and appears to "rise" (in reality, from what I understand, a "rising fastball" does not rise, it just drops less than the average fastball on the plane to the plate). According to Daren Willman's baseballsavant.com, deGrom has generated a swinging strike on four seamers up in the zone 93 times this year, 4th highest in baseball and good for 3.99% of his pitches (MLB average for all pitchers on 4sm in this zone, including hard throwing relievers, is 1.59%). deGrom has also limited opponent slugging % on four seam fastballs in those zones to .308, 65 points better than the league average of .373 in those zones.
Here is a good example of the effectiveness of his four seamer up in the zone against a red hot Carlos Gonzalez last week:
deGrom's four seamer explodes past and above CarGo's bat as CarGo swings slightly under the pitch.
Two more examples: a 98 mph fastball past Danny Espinosa:
97 mph past Ian Desmond:
As the four seamer travels to the plate, hitters anticipate it dropping down a little bit lower in the zone but the pitch keeps exploding upward, getting swings and misses underneath the ball.
deGrom's second fastball is his two seam fastball, and it has some filthy movement and sink: this 95 mph two seamer located down in the zone from last night's Orioles has the bottom drop out of it like a change up:
The development of an elite 90 mph slider has also helped deGrom's game immensely. Eno Sarris of FanGraphs wrote about the pitch in great detail, and you should go read about it here.
A 91 mph slider strikes out RHP masher Adrian Gonzalez: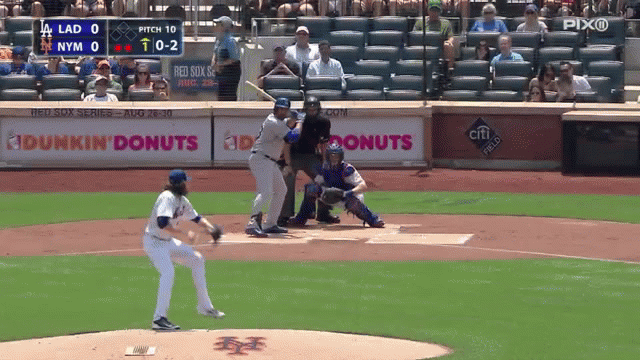 A 92.5 mph slider strikes out Yasiel Puig:
A 91 mph slider that gets a swinging strikeout against Michael Taylor:
And a look at his other breaking pitch, his curve: this one was 85 mph: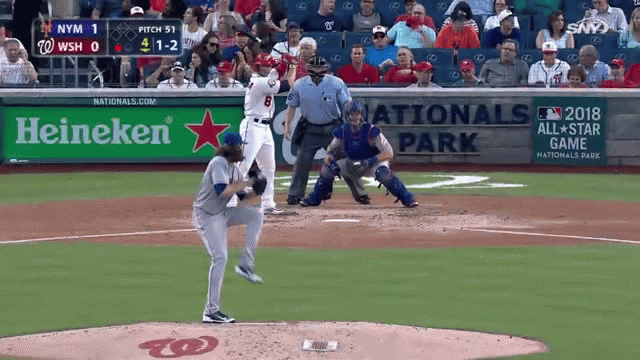 A view from behind the catcher at his curve:
Results against all of deGrom's pitches have been significantly above average

According to pitch FX, none of deGrom's pitches are a weak point from an opponent production standpoint, and with his pitch mix, it's easy to see why. The highest wRC+ hitters have generated against a single pitch is a puny 77. Here's a chart:
| | | | | | |
| --- | --- | --- | --- | --- | --- |
| | 4sm | Slider | 2sm | Change | Curve |
| Pitches thrown | 1126 | 385 | 356 | 248 | 206 |
| Opp. OPS | .511 | .525 | .615 | .416 | .524 |
| Opp. wRC+ | 50 | 56 | 77 | 24 | 54 |
Chris Davis has not enjoyed his time against Jacob deGrom this year
Chris Davis of the Baltimore Orioles has found out first hand how amazing deGrom has become. Davis has faced deGrom 6 times this season, concluding in last night's Mets-Orioles game, and is 0-6 with 6 strikeouts. These are from last night:
This 2-2 change up should be illegal:
And a tailing 95 mph two seam fastball runs away from Davis' bat:
0-4 with four strikeouts is the golden sombrero. 0-5 with five strikeouts is the platinum sombrero. What is 0-6 with six strikeouts? Maybe it's a capitulation to the 2015 National League Cy Young award winner.
You can follow me on Twitter at @TimFinn521