Noah Syndergaard has evolved a lot already in this short season. He's only made 13 big league starts, but his repertoire is rapidly changing, and for the better. Syndergaard began throwing a ferocious two seamer towards the end of May, a grip tweak on an existing pitch he made with pitching coach Dan Warthen that essentially formed a new pitch. (I wrote about the two seamer here if you're interested).
His two seamer is thrown so hard and moves so much that hitters have a very difficult time barreling it up; it runs away from the barrel and towards the hands against righties, and Syndergaard often throws it at the front hip of lefties to have it appear like a ball at first before moving over for a strike as it crosses the plate. He also starts it on the outer third against lefties and has it run off the plate, often resulting in weak contact off the end of the bat. According to baseballsavant.com, of the BIP that have been recorded with exit velocities, Syndergaard's 85.2 mph average opponent exit velocity is 4th best in baseball (min. 150 BIP), behind only Clayton Kershaw, Chris Sale and Jake Arrieta, and slightly better than ground ball king and notorious soft contact inducer Dallas Keuchel.
A front hip 97 mph two seamer against LHB Ryan Howard:
An outer third located two seamer that runs off the plate and is hit off the end of the bat by LHB Ben Revere:
His curve has improved as the season has gone along, too. Syndergaard said he had difficultly throwing the pitch in the dry conditions of the PCL, specifically home at Las Vegas, and his curve didn't look quite as sharp early this year as it had before he hit the PCL.
This is a pretty filthy 81 mph curve from yesterday's Nationals start:
The Warthen Slider
I didn't get to catch yesterday's afternoon MLB games live and stayed off social media for the most part during the day, so when I watched some of Noah Syndergaard's start against the Washington Nationals last night on MLB.tv my eyes got wide when I saw that Syndergaard was now throwing 89-92 mph sliders. This is the famous Dan Warthen slider, which you can read in depth about here. The "Warthen slider" is a big reason why Matt Harvey exploded at the MLB level in 2012, and it's helped numerous Met pitchers vastly improve their game, including budding superstar Jacob deGrom.
According to Brooks Baseball, Syndergaard's slider averaged 89.7 mph and topped out at 91.7 mph yesterday. He only threw the slider 8 times (8%), so the pitch is still in it's developmental stage. Both Matt Harvey and Jacob deGrom throw their sliders between 15-18% of the time, about double the usage of Syndergaard yesterday. But this pitch figures to eventually be a big part of Syndergaard's game, and it's easy to see why. Here are a few visuals:
This is the first "Warthen slider" he threw during his start. It is 91 mph on the stadium gun (Brooks has it 91.7 mph), and the pitch is just ridiculous. Michael Taylor does not swing at it, probably because the pitch begins just off the plate before breaking: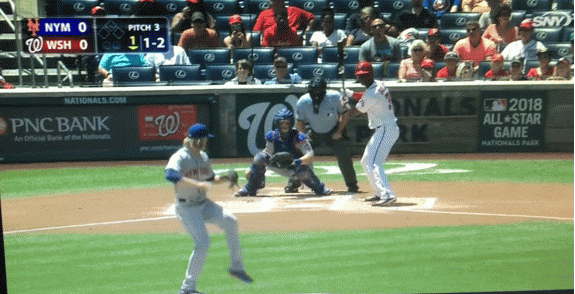 The average two seam fastball is clocked by pitch f/x at 91.7 mph in 2015. This is a slider. That type of sharp break on a 91.7 mph pitch is pretty crazy.
This is the second slider he throws. It's 89 mph, and the slider is painted on the outside corner and freezes Dan Uggla for a strikeout:
Syndergaard's command is pinpoint. Command is different than control; control is throwing strikes/limiting walks, but command is placing the pitch exactly where the catcher wants it. Look at where catcher Kevin Plawecki sets up and where the ball ends up:
This is the hardest slider Syndergaard threw: 92 mph to Dan Uggla in the 3rd inning:
Syndergaard's 89.7 mph average on the pitch, if he holds it there, would rank 2nd highest in baseball for sliders behind only Jake Arrieta (90.2 mph), and slightly ahead of teammates Jacob deGrom (89.5 mph) and Matt Harvey (89.1 mph).
We are now seeing a much improved version of Noah Syndergaard after just 13 MLB starts, and that's really bad news for the rest of the National League.