Matt Harvey's start to his major league career was something special. Harvey's dominance at the MLB level was something not even the most crazed, unrealistically optimistic fan could have expected. Harvey posted an ERA just under 4 in 32 starts between AA and AAA before coming up to the big leagues. Most outlets had Harvey pegged as a 3 starter in MLB with a chance to become a 2. Nobody expected future ace, let alone the second coming of Roger Clemens. But Harvey has struggled a lot lately as he makes his way back from Tommy John surgery, and something that strongly sticks out are the results against Harvey's fastball, a previously elite pitch that has now become far less effective despite unchanged velocity readings.
Harvey Background
Harvey's emergence at the MLB level was fueled by a significant rise in fastball velocity and the development of a devastating 90 mph slider, dubbed the "Warthen slider", named after pitching coach Dan Warthen, who taught the pitch to Harvey in a bullpen session before his MLB debut in Arizona in 2012. ESPN scout Keith Law, who was in attendance, called Harvey's slider "toxic", and added that it was "a grade-70 pitch pretty much all outing":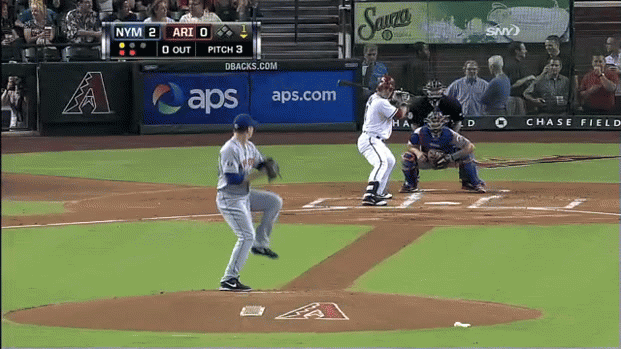 By some metrics, Harvey's 2013 season was one of the greatest pitching seasons in the live ball era (1920s-present). According to FanGraphs, his 2.00 Fielding Independent Pitching ranks 8th best among qualified starters in that time frame spanning nearly 100 years, grouped in the top 10 with Mets legends Tom Seaver (1971 season, 1.94 FIP) and Dwight "Doc" Gooden (1984 season, 1.69 FIP). The key to Harvey's all time great 2013 season was newly formed elite control of his nasty pitches, combined with a further increase in velocity. Harvey cut his walk rate down from over 10% in 2012 to 4.5% in 2013 and painted the corners with his pitches.
Unfortunately, it's rare that the Mets get to experience good things for prolonged periods, and Harvey blew out after a start against the Tigers in late August (that I happened to be in attendance for). Next came 17 months of rehab before stepping back on a mound in a live game this past March 6 in spring training, also against the Tigers (I happened to be in attendance for that game, too).
Harvey came back not only looking as good as before, but pitching coach Dan Warthen and catcher Anthony Recker claimed Harvey looked even better. According to Mike Vorkunov of NJ.com, Mets internal data tracked Harvey's spin rate on his breaking pitches, which were already elite pre surgery, as being even higher this spring than it had been in 2013. A higher spin rate on a curveball makes it more difficult for hitters to pick up the seams, which makes it challenging for hitters to identify what pitch is coming before it's too late. He was also topping out at 99 mph on his fastball and maintaining mid 90s averages. Harvey started the 2015 regular season off resembling something close to what he had been in 2013; he didn't look quite as sharp all the time, but still resembled an ace. Through his first 8 starts, Harvey posted a 1.98 ERA and 2.57 FIP.
Then, Harvey hit a wall. In the May 23 start against the Pirates, hitters squared up Harvey's 96 mph fastball like I've never seen before. Usually, you see hitters take uncomfortable swings at Harvey's fastball. Hitters are usually behind it, or put poor swings on it.
Here is the perfect example of a vintage Harvey fastball past Bryce Harper in Harvey's first start of the 2015 season in Washington. Harper has no chance against the explosiveness of the pitch: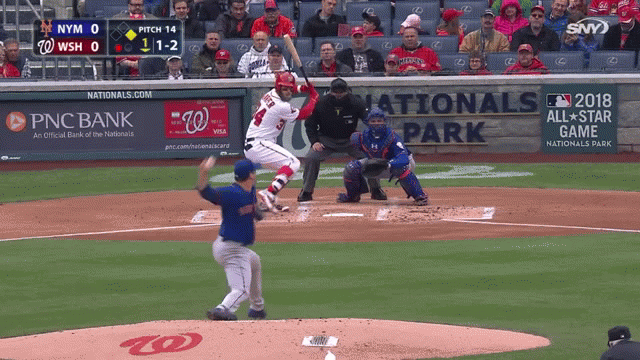 Harvey abused Harper all game with high fastballs. He struck him out swinging three times on them, and all of Harper's swings were late. Here's Strikeout #2:
Slow motion:
Strikeout #3:
Keep in mind that Harper has been as productive offensively as prime Babe Ruth this year based on park and league adjusted metrics. To make Harper look this helpless on the same pitch over and over is amazing.
Harvey has posted an unbelievably ineffective (for him) 4.13 ERA and 4.44 FIP since that May 23 start in Pittsburgh. This is not Matt Harvey. As a famous New York sports radio host would say, "when Matt Harvey is Matt Harvey, he's Tom Seaver." "When Harvey is Harvey, he's Clemens." Matt Harvey is not Matt Harvey right now.
Opponent slugging percentage has dramatically risen against Harvey's fastball
Since that Pittsburgh start, which manager Terry Collins suspected Harvey had a "dead arm" in, hitters have been squaring his fastball up significantly more often; they're more out in front of it and taking much better swings at the pitch. The bizzare thing about this is that Harvey's fastball velocity largely remained the same, and has actually risen somewhat since that start. If you were watching all the games without a velocity reading, you would think that Harvey's fastball velocity had dropped based on the swings hitters were now taking against the pitch. The velocity out of the hand has not dropped at all (94.8 mph pre "dead arm", 95.0 mph post).
The data supports this observation. Daren Willman's (@darenw on twitter, a must follow) website baseballsavant.com is one of the crown jewels of public baseball data. The website contains a Pitch FX database, along with loads of other useful information to help the baseball public dig deeper into the intricacies of the game. Using Daren's incredible website, Harvey's splits on his fastball have had an extreme shift in his last 9 starts, beginning with that "dead arm" Pittsburgh game.
For the entire 2013 season, spanning 26 starts and 178 innings pitched, opponents slugged just .296 against Harvey's fastball (both 4sm and 2sm) with only 4 home runs. Through Harvey's first 8 starts in 2015, opponents slugged .333 against Harvey's fastball. Then, beginning with the Pittsburgh start, opp. slugging% on Harvey's fastball skyrocketed to .513%:
| | |
| --- | --- |
| Time frame | Opp. Slugging% on FB |
| 2013 (26 GS) | .296% |
| 2015 (1st 8 GS) | .333% |
| 2015 (9 GS since) | .513% |
Harvey has allowed 12 home runs on his fastball this year, 3 times as many as he allowed in 2013 in 9 less starts. Harvey went 34 straight starts strongly limiting opp. slugging% on his fastball before seeing it jump over 200 points in his last 9. This is extreme, and something is clearly up.
Inconsistent fastball command
Some of this can be attributed to missed location. Harvey's command was strong in 2013 and early on in 2015. Teammates were amazed at Harvey's bullpen sessions this spring and how he was constantly "corner, corner, corner" on every pitch he threw. As the 2015 season has gone along, Harvey's good command has become shaky at times.
This is Andrew McCutchen squaring up a 96 mph fastball that badly misses catcher Kevin Plawecki's target: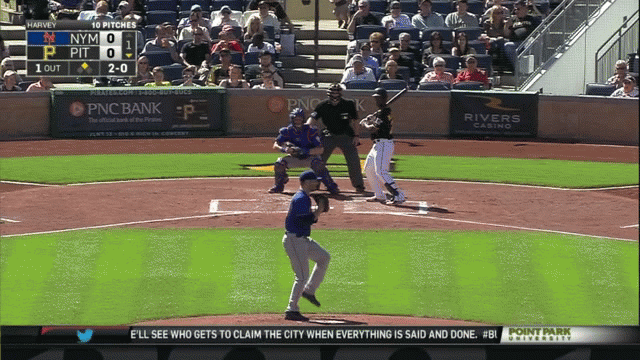 This is where Plawecki wants the ball, on the outer third down in the zone:
The ball ends up located middle in, and McCutchen has no problem putting the barrel on the ball, sending it 106 mph off the bat and over the LCF fence:
From the same game: Pedro Alvarez launching a dinger off a 96 mph Harvey fastball:
Again, notice the difference between where Plawecki wants the ball and where Harvey puts the ball. Plawecki wants it outer third:
The ball ends up inner third:
Lack of fastball explosion on hitter (changes in fastball spin?)

Command issues have been part of the reason why Harvey's fastball is suddenly getting hit more often, but my strongest observation is that Harvey's fastball hasn't had that same explosion on hitters that it normally does. Even when Harvey has missed his spots in the past, his fastball was so ferocious and full of life that it was still tough to square up and tough to get out in front of. For McCutchen and Alvarez to square up his 96 mph fastball that easily is perplexing, and I suspect there's more to it than just missed location. His fastball just looks less lively. I cannot really prove this or quantify it other than by saying "this is what I see", but the difference between swings hitters took on Harvey's fastball early this year (like Harper) vs the swings hitters have taken more recently are stark. Take another example besides the Pirates game: Joe Panik's June 10 home run off a 96 mph fastball located in the upper part of the strike zone:
This was the first ever 0-2 pitch that Harvey allowed a home run on in his career. Harvey doesn't get the 96 mph fastball in enough and ends up leaving it over the middle of the plate. Here's a center camera view:
The pitch misses it's targeted location, but vintage Matt Harvey mid to upper 90s fastballs up in the zone do not get turned on like this and smoked, at least not that I can remember. Compare the Panik swing to Harper's swing from before. Joe Panik is a good baseball player having a fine year, but Bryce Harper out of this world good. There's just something about the way the ball explodes on Harper that is missing on the Panik pitch.
From what I understand, the type and amount of spin on a fastball (vertical spin/backspin?) can cause that late explosion/life that can be super effective up in the zone and cause hitters to swing through high fastballs. Maybe Harvey's type of spin on his fastball is not the same now as it was during the early part of the year. This would explain why Harvey had a "dead arm" despite not having a drop in fastball velocity out of the hand.
Here's another example of Harvey's early season explosive fastball on an elite hitter: Giancarlo Stanton is way behind Harvey's 96 mph fastball up in the zone during a start on April 19 and takes an absolutely dreadful swing to strike out: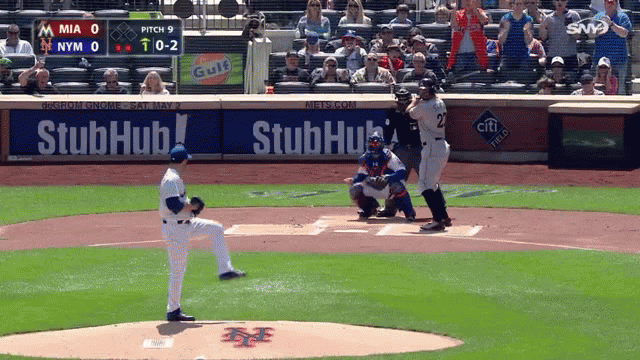 Another Stanton late swing on a Harvey fastball, from the same game:
Harvey the rest of the season
The fact that Harvey showed signs of his dominant self early in the year is very encouraging for his long term outlook, in my opinion. After such a long layoff, an athlete's body being unable to fully handle the rigid demands of pitching in the big leagues is something that makes total sense. I don't know if that means Harvey will return to form again this year or if it will take until next year for this to happen, but I think it's reasonable to expect it to happen eventually. Adam Wainwright famously went through similar struggles after his TJ surgery, posting a 4.56 ERA through his first 17 starts before eventually resuming his normal ace level production.
The Dark Knight is fighting his toughest battle to date, and the people of Gotham will have to hope he navigates through this and rediscovers the fastball that made him, in my opinion, the best pitcher on the planet in 2013.