Reminder: Always double check the lineup card before rosters lock to make sure that a player you've chosen to roster is playing that day, and check the weather to make sure your players won't get rained out of their game.
P- Carlos Rodon vs. Oakland Athletics, $5,800
Rodon, the #3 overall pick in the 2014 draft, sits in the mid 90s with his fastball and breaks off a ferocious swing and miss slider that Baseball Prospectus graded as a "7" pitch on the 2-8 scouting scale. Rodon's slider has generated 20.3% swinging strike rate, well above average for the pitch, and he's already made some of the best big leaguers look foolish with it.
Here is Rodon making LHB Joey Votto look foolish last week with that nasty 90 mph slider:
RHB Todd Frazier walks away shaking his head and grinning after swinging and missing at Rodon's slider: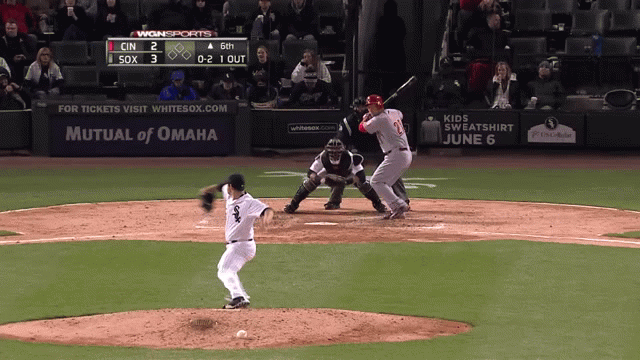 Rodon's fastball averages 94.6 mph and touches 98.5 mph, which makes his slider more devastating because hitters have less time to identify what pitch is coming.
Rodon blowing a 98 mph fastball past Marlon Byrd: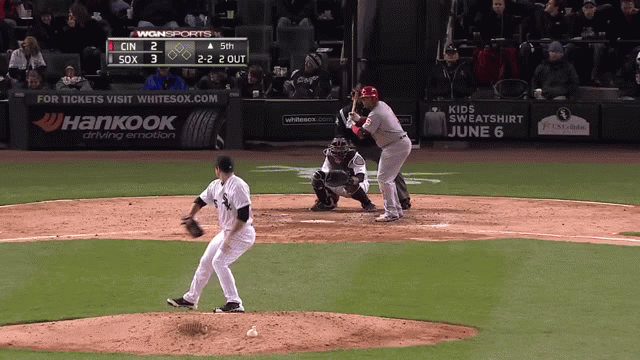 95 mph smoke past Devin Mesoraco:
Rodon faces an Athletics offense that is brutal vs left handed pitching. Their 55 wRC+ vs LHP is 2nd worst in baseball in 2015 and their .060 ISO vs LHP is dead last. The Oakland Coliseum is one of the most pitcher friendly parks in the game, which makes the matchup even better.
Rodon has big swing and miss capability, and since FanDuel doesn't penalize pitchers for walks or hits, Rodon will be a much better play under this rule set than on other daily outlets. ZiPS projects 10 strikeouts per 9 for Rodon the rest of the way.
Usually, playing a safer pitcher like a Madison Bumgarner or Michael Pineda is a good idea in a 50/50 or H2H over playing a high upside rookie, but this matchup vs the A's is very strong. Rodon is a great play in a tournament format, and I think he represents a good play in a 50/50/H2H, too, because of the strong matchup, dirt cheap price, park effects and likelihood of high strikeouts. For value reference, Rodon is priced the same as Bruce Chen and priced lower than Jason Marquis, which makes him the biggest bargain on tomorrow's slate in my opinion.
If I haven't convinced you enough to be comfortable going with the rookie, Madison Bumgarner at $10,000 vs the Cincinnati Reds, who toss Jason Marquis, is probably the safest non Kershaw bet for tomorrow.
3B- Adrian Beltre vs. Bruce Chen, $3,100
Beltre's results haven't reflected how well he has hit the ball. 20% of Beltre's at bats are ending in a hard hit ball, well above average, yet he only has a 79 wRC+. Beltre will be rewarded for his strong contact once his luck turns around. He faces LHP Bruce Chen, who is ancient. Chen owns a 7.91 ERA and 4.66 FIP since the start of 2014 and is projected by ZiPS to have a 5.26 ERA the rest of the season. Beltre has been one of the biggest lefty mashers in baseball in recent years, posting a 155 wRC+ with 15 HR in 376 PA vs LHP dating back to 2013. Beltre's price drop due to bad outcomes fueled by poor luck can be taken advantage of, and Chen is a great opposing pitcher for that purpose.
C- Buster Posey vs. Jason Marquis, $3,800
Posey, one of the best hitters in baseball, faces Marquis, one of the least effective pitchers in baseball, in one of the best hitting environments in the game in Cincinnati. There really isn't much more that needs to be said.
OF- Hanley Ramirez vs. J.A. Happ, $3,700
Ramirez faces a Mariners lefty for the second straight night. I wrote about some lefty mashers yesterday, and Hanley was one of the players I mentioned. As of yesterday, he had a 186 wRC+ (2nd best in baseball from 2013-present), a .300 isolated slugging (3rd best in baseball from '13-present), and 15 HR in 245 PA vs LHP since the start of 2013. He added to that wRC+ total with 4 hits last night vs the Mariners, two of which were well struck. SafeCo is a tough park for power, but I posted a HR overlay of Ramirez' 2015 home runs over SafeCo, via Hit Tracker:
Ramirez faces J.A. Happ, who has huge platoon splits so far in 2015 (1.24 FIP vs LHB, 4.24 FIP vs RHB) and owns a 4.01 ERA and 4.08 FIP in 155 IP vs RHB dating back to the start of 2014. As one of the strongest performers vs LHP in recent years, Ramirez is a bargain at $3,700.
Dodgers LHB vs Eddie Butler
The sample size on Butler is small, but he has terrible numbers vs LHB and has given up a lot of hard contact against them. Butler's career FIP/xFIP combo vs lefties is an ugly 6.34/5.86, and it's not a Coors Field product, either, because his road combo is worse at 7.59/6.03. He gives up a hard hit ball in 22% of his left handed opponents' at bats, which is significantly below average, and his opponents' OPS vs LHB is a hideous .936. Andre Ethier ($3,100) is a career 140 wRC+ vs RHP with an incredible .300 ISO, 1.056 OPS and 187 wRC+ vs them in 2015. Yasmani Grandal ($3,000) is a career 130 wRC+ hitter vs RHP with it at 163 in 2015.
Follow me on Twitter at @TimFinn521, I usually tweet out more good options as lineups are released.