Noah Syndergaard is arguably the best RHP prospect in baseball. He was ranked the #9 prospect in the game by Baseball Prospectus (BP) in their annual top 101, and ESPN ranked Syndergaard #17 in their annual top 100.
Here are some clips of what the two excellent outlets report about Syndergaard:
Strengths: Excellent size; uses frame to advantage; downhill thrower; elite fastball; routinely works mid-to-high 90s, with arm-side life; can overpower with offering; strong feel for curve; throws with a loose wrist; stays on top of pitch to create deep, downward break; already a mature piece of arsenal (present plus); will miss bats at highest level; change shows guise to fastball; throws with similar arm speed and angle; fades arm side aggressively; room for more growth; very athletic for size; projection for command improvement.

Weaknesses: Command presently more of the area variety; needs to throw quality strikes more often; falls into ruts of working elevated and in challenge mode; still learning the ins and outs of craft; at times wraps with curveball and will roll; change can be on the firm side and lack enough separation
ESPN:
"He's now to the point where he seems like the safest bet of any of the premium pitching prospects on this list. Syndergaard will hold mid-90s into the seventh inning, working with what seems like negative effort, and his changeup is plus at 78-79...The Norse God of Velocity is ready for the call to Queens, with the floor of an above-average starter who can carry 200-plus-inning workloads."
2014 overview
Syndergaard experienced some bumps in production in 2014, posting a 4.60 ERA. However, Las Vegas is hell for pitchers, and the context of his pitching environment needs to be considered. Las Vegas is a terrible place to put a prized pitching prospect for their development for a few reasons. First, the high altitude makes flyballs travel a lot further than they normally would, and this is amplified by a desert wind that often blows out during night games. Second, the dry air makes the ball slick, which makes it difficult to command pitches and difficult to throw a breaking pitch. Third, the infield is a mess and grounders often get through for hits because of the hard ground. Fourth, the weather can reach extreme temperatures in the summer, reducing stamina on the mound. Lastly, the spacious outfields often lead to dink shots falling in for hits.
So to sum up: the fly balls travel further, the ground balls are more likely to go through for hits, weak contact is rewarded less often, and the pitches move less, which makes them easier to square up and hit hard. It's a brutal environment for a pitcher, and it doesn't really help develop hitters either because they aren't being exposed to the same degree of high quality stuff they would see in a neutral setting.
Syndergaard will not experience any of these park factors in New York. Citi Field is one of the more pitcher friendly parks in baseball.
John Harper expanded on Syndergaard's year in Las Vegas, writing,
Syndergaard is pitching to a 4.98 ERA in Las Vegas and the consensus is that he simply hasn't demonstrated the command that he did last year in Double-A. Instead he's pitched behind in the count far too often, making him more hittable.

"Triple-A hitters are savvier — a lot of them have major-league experience,'' says one NL scout. "If you put them in hitter's counts and become more predictable, they're going to square up your fastball, no matter how good it is. That's what I've seen with Syndergaard.''

A person in the Mets' organization echoes that assessment, while noting that Syndergaard, who turns 22 in August, is younger than either Matt Harvey or Zack Wheeler when they were promoted to the big leagues.

"The great stuff is there,'' the Mets' person said. "But he's still very young, he's pitching in a hitter's league, and he's probably lost a little confidence. It's really a pretty normal learning curve.''
Syndergaard's drop in command had more to do with park factors than anything related to his skillset, in my opinion. I had the chance to see him in person a few times before his stint with Las Vegas and something that really stuck me was how he was always around the plate. He rarely missed badly with a pitch, and he put a priority on getting ahead of batters with first pitch strikes.
Syndergaard said of his 2014 season,
"I feel like the 2014 season was a big learning curve for me," Syndergaard said. "I learned how to become a pitcher as opposed to being a thrower. I relied too heavily on my fastball, and being in Triple-A, guys have been in the big leagues for a number of seasons, so they can hit the fastball. You throw three fastballs over the plate and they are going to time one up."
Visuals of Syndergaard's repertoire
Fastball
Syndergaard's four seam fastball ranges from 94-98 mph and occasionally showcases downward, bowling ball movement. He also throws a two seamer that is slightly slower than his four seamer. When Syndergaard throws his four seamer up in the zone, it seems to have a little rise to it.
This is a 96 mph four seam fastball from the 2013 Future's Game at Citi Field: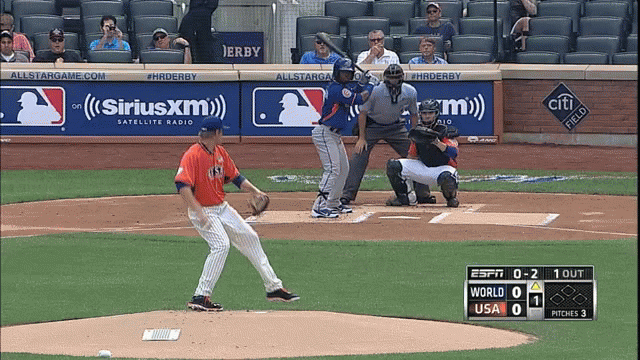 This 96 mph fastball from 2014's Future's Game is an example of a pitch that probably would have been a home run in Las Vegas but stayed in the yard of a netural park:
Curve: Thor's Hammer
Syndergaard's nickname, given to him by Mets fan Daniel Wexler (@WexlerRules) shortly after the R.A. Dickey trade, is Thor, named after the mythical hammer holding god of thunder and lightning. Syndergaard packs a thunderous curve with nasty break, and has increased the velocity of the pitch every year he has been in the Mets organization. When first acquired from the Blue Jays, Syndergaard's curve was a soft 66-72 mph pitch that wasn't up to MLB standards. However, midway through the 2013 season, Syndergaard made a tweak with the help of St. Lucie Mets pitching coach Phil Regan and the pitch shot up to 78-81 mph. It went from being a below average pitch to a plus pitch over the span of a few starts, an incredible development.
By spring training 2014, the pitch was ferocious. Terry Collins famously labeled the pitch the "hook from hell", and the New York media was all over it. Here is the cover the New York Daily News from last spring:
Syndergaard's curve is being thrown even harder this season, topping out around 84 mph. Here is an example of an 83 mph curve from this spring:
Here's a look at where the pitch starts out of his hand and where it ends up as it hits the catcher's mit:
At 84 mph, the pitch is just filthy.
This 79 mph curve is from the 2014 future's game. The strong downward break on the pitch should cause a lot of ground balls, which is what happens here: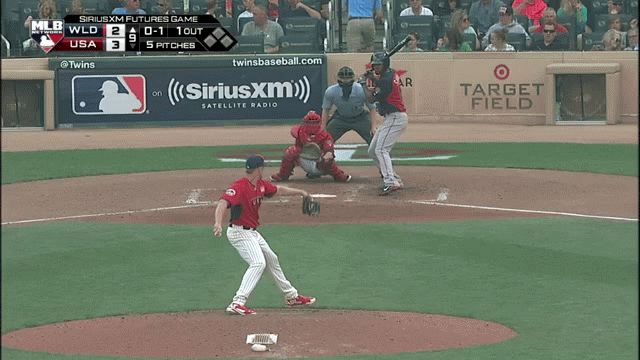 Another 79 mph curve, from 2013 with Binghamton:
Change up:
Syndergaard said that the dry air in Las Vegas made throwing his curve difficult last year, so he had to throw his change up a lot more often.
Here is a disgusting 85 mph change up thrown in last year's Future's Game at Target Field: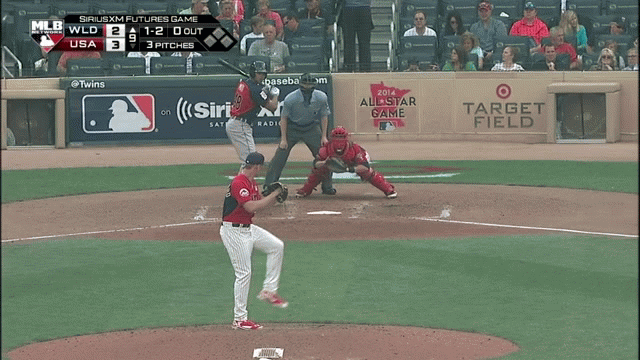 This pitch is beautiful, and if he can consistently throw his change up like that instead of just flashing it, it's going to be a devastating counter to his mid 90s heat.
2015
My favorite projection system, Dan Szymborski's ZiPS, projects Syndergaard to have the following statistics in 2015 in the big leagues:
| | | | | | | |
| --- | --- | --- | --- | --- | --- | --- |
| ERA | FIP | K/9 | BB/9 | fWAR | WHIP | IP |
| 3.48 | 3.26 | 9.52 | 2.55 | 2.4 | 1.19 | 134 |
2.4 fWAR would be third best amongst current Mets starters, behind only Matt Harvey and Jacob deGrom, and his ERA and FIP would be better than Zack Wheeler's from last year.
The Mets may think Syndergaard needs more developmental time, but getting him out of that awful Las Vegas environment would be a good thing. When the Blue Jays AAA team was in Las Vegas, they skipped some of their pitching prospects over it and brought them straight up from AA to the big leagues. Some may disagree, but I wish the Mets had left Syndergaard in Binghamton last year and away from those conditions. I'm not sure the benefits outweighed the negatives. When your top pitching prospect says he has to back off throwing his plus curveball because of the conditions, that's something to be a little alarmed about. Zack Wheeler said similar things about his breaking ball in Vegas.
I hope the Mets figure out a way to get Syndergaard to New York sometime after the extra year of control locks in, because wasting Syndergaard's bullets in Las Vegas in favor of a below average Dillon Gee is going to hurt the team's chances at winning this year. Compare Syndergaard's ZiPS projection to Dillon Gee's:
| | | | | | | |
| --- | --- | --- | --- | --- | --- | --- |
| Pitcher | ERA | FIP | K/9 | BB/9 | fWAR | IP |
| Syndergaard | 3.48 | 3.26 | 9.52 | 2.55 | 2.4 | 134 |
| Gee | 4.18 | 4.24 | 6.78 | 2.54 | 0.9 | 142 |
Syndergaard is projected to be significantly more productive.
For a realistic 2015 outlook, Syndergaard will likely be up sometime after the super 2 deadline. The Mets will look to trade Dillon Gee to a team that needs a 5th starter, and they can slide Syndergaard into the rotation once Gee is gone. This could happen as late as the trade deadline. Syndergaard will provide plenty of strikeouts to go with an above average ERA whenever he is called up, and he has the potential to be a top of the rotation type starter as he develops in future years.