Dustin Ackley has largely been a disappointment in his short career. On June 30 of last year, the former #2 overall pick of the 2009 draft had a career wRC+ of 87 in roughly 1700 PA and a 2014 wRC+ of just 72. The Mariners have had some high end talent bust at the MLB level in recent years, including Jesus Montero and Justin Smoak, and Ackley looked like he might be headed down that path. However, Ackley made a mechanical change at the plate in the second half of 2014, a significant change that made him a different hitter. Ackley's production surged after making this adjustment, and I've pinned him as my breakout hitter for 2015.
Dramatic increase in good contact
Ackley began hitting the ball significantly harder in the second half of 2014, after he made an adjustment at the plate. Hard hit% and medium hit% are the percentages of at bats that end in a hard or medium hit ball. Video trackers classify the stat based on exit velocity off the bat, batted ball trajectory and contact location on the bat. For hard hit balls, trackers are looking for exit velocities of 90+ mph with contact on the sweet spot of the barrel. For medium hit balls, trackers are looking for exit velocities of 74-89 mph with contact near the sweet spot. Hard hit balls result in batting averages of around .700, while medium hit balls result in batting averages around .400. About 100% of home runs, 80% of triples and 70% of doubles are classified as hard hit. Hitters who generate a lot of hard and medium contact are more likely to have strong results than hitters who generate less amounts of hard and medium contact.
Ackley saw a huge rise in hard and medium contact in the second half of his 2014 season:
% of at bats that ended in a hard or medium hit ball, split by half (Mar-June, July-Sept):
| | | |
| --- | --- | --- |
| Half | Hard hit% | Med. hit% |
| 1st | 17.3% | 16.5% |
| 2nd | 22.0% | 22.8% |
Ackley's hard hit% was in elite company in the second half. For a loose reference, a hard hit% of 22% would have placed Ackley 10th in all of baseball had Ackley maintained it all year. The dramatic increase in medium hit balls was an important change, too, because medium hit balls also result in strong production. Ackley's quality of contact was far better in the second half, and to no surprise, it led to significantly better results on the field:
Results, split by half:
| | | | | | | | | |
| --- | --- | --- | --- | --- | --- | --- | --- | --- |
| Half | wRC+ | AVG | OBP | SLG | HR | K% | BB% | BABIP |
| 1st | 72 | .214 | .273 | .329 | 4 | 17.0% | 7.2% | .246 |
| 2nd | 122 | .274 | .313 | .463 | 10 | 16.2% | 4.7% | .298 |
The only concerning trend is the drop in walk rate to under 5%, but if Ackley keeps hitting the ball as well as he did in the second half, pitchers will adjust and Ackley's walk rate may go up because they'll give him more respect. Ackley was praised for a strong approach as a prospect, so he should be able to identify pitches to lay off as pitchers adjust to him.
Here is Ackley's batted ball profile, split by half:
| | | | | | |
| --- | --- | --- | --- | --- | --- |
| Half | LD% | GB% | FB% | IFFB% | HR/FB% |
| 1st | 17.1% | 47.7% | 35.2% | 11.4% | 5.7% |
| 2nd | 19.6% | 43.0% | 37.4% | 7.5% | 12.5% |
The most glaring difference is the big increase in home run to fly ball ratio. The harder a fly ball is hit, the more likely it goes for a home run, so Ackley's increase in hard contact aligns with his increase in HR/FB%. Ackley was also popping up less, which shows an ability to hit the ball with a better spot on the bat more consistently.
Evolution of his swing: Visuals
Ackley's swing adjustments were a gradual evolution during July rather than a sharp change overnight. I didn't notice a huge difference in swing mechanics until late July. This is also when Ackley's HR power took off; all 10 of Ackley's 2nd half home runs occurred in 193 PA from July 31 on, with his new beautiful swing. However, there was a significant improvement on barreling up pitches beginning around July 1, and it was a conscious effort in approach, a change that differed from the first half. Adam Lewis of MLB.com wrote,
"I think my swing over those early months wasn't where it needed to be," Ackley said of his slow start to the year. "It wasn't that I wasn't looking for fastballs. It was that I was looking for them, but I wasn't hitting them and my swing wasn't in position to do that."

Ackley is working with hitting coach Howard Johnson to address what some perceive as a weakness -- hitting pitches on the outer half of the plate.

"Once I started tinkering with some stuff and kind of just figuring out how to drive the ball the other way and staying on pitches, it all seemed to work out better and I was able to compete," Ackley said.

It's also helping Ackley turn on pitches, as evidenced last weekend by his three-run homer that curled around Fenway Park's "Pesky Pole" in a 7-3 win over the Red Sox.

"I've been pitched in a lot here the past couple weeks," he said. "It's one of those things where the better your swing is the other way, the better you're going to be pulling the ball."
Old swing
This is Ackley's swing back in April and May:
Ackley's hands are in a lower, more laxed position. His front shoulder was more open and his swing was a little longer. His bat was also held in a more vertical position.
New swing

Here is Ackley launching a missile of a home run off Jered Weaver on September 26: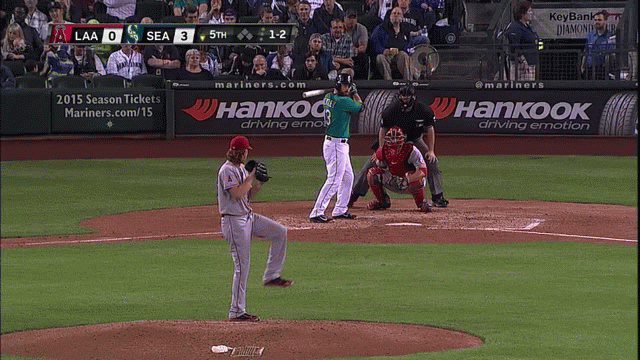 Ackley's hands now stay back, loaded and still, which reduces moving parts and makes consistent good contact easier. His swing is shorter and more compact, and his bat also stays flatter through the zone, which closes holes in his swing and makes the ball easier to barrel up. His base looks more balanced in his new swing, allowing him to generate more force from his lower body. His bat is also held in a more horizontal position, and his front side is closed.
Here is Ackley going opposite field for a home run on September 19:
Ackley crushing another homer on September 19, this time off a LHP:
A home run on July 31:
A home run off a 96 mph Stephen Strasburg fastball on August 30:
I'm no scout, but the biggest differences, to me, are the increase in torque and stronger ability to put the barrel of the bat on the ball. I love the way his new swing looks.
Alex Gordon Comparison

Defense aside, Dustin Ackley reminds me of Alex Gordon. There are some striking similarities between the two:
1. Like Ackley, Gordon was also the #2 overall pick in his draft, and he struggled for a long time before figuring things out at the plate.
2. Gordon had a career wRC+ of 93 before figuring things out in 2011. Gordon's wRC+ from 2011-present is 123. Ackley had a career wRC+ of 87 before he began his adjustment. His wRC+ after his adjustment was 122.
Ackley obviously has a long way to go before he becomes Alex Gordon offensively. The sample size is small for Ackley at this point, but he's trending strongly in the right direction.
Ackley in 2015
Ackley also had a huge second half in 2013, but the tangible, significant change in process at the plate has me sold this time. I am excited about Dustin Ackley in 2015 and think he can be the steal of many drafts. Like Gordon, Ackley isn't going to be a monster fantasy hitter, but he can become a consistent top 100 player yearly. A safer bet for me this season is top 150, which is a lot better than his current 2015 ADP.
The run scoring environment is tough on Mariners hitters with all the games they play in pitcher's parks, so that hurts Ackley's fantasy value a little bit. But with Robinson Cano, Nelson Cruz, Kyle Seager, and the addition of Seth Smith against RHP, I like the Mariners lineup, and think Ackley is going to out produce his ADP by a good margin.