I have been an enormous Dellin Betances fan dating back to last summer. I have written multiple times about how much I love his stuff, and about how his move to the bullpen allowed him to repeat his delivery, which fixed his command problems as a prospect. His stuff last year was disgustingly good. He's 6'8 and releases the ball closer to home than a normal pitcher, so his upper 90s fastball played up faster than that. His knee buckling knuckle curve served as the perfect complement to his fastball, and he made some of the best hitters in the game look silly with it last year. Betances had a 1.64 FIP in 90 innings with roughly a 40% strikeout percentage. He was a monster.
In fact, I drafted him 77th overall in one of my industry leagues at the beginning of March because of how high I was on him coming into this year. I even began to write in my bold predictions piece that Betances would finish as a top 2 RP. But I had to edit that out and do a 180, because this spring has me terrified.
It's not his awful stat line, either (ERA over 7, WHIP over 1.7). Betances' fastball velocity has been 89-94 mph, down from an average of 96.7 mph last season. His curve doesn't have the same sharp break, and he isn't finishing his pitches. His delivery looks like a mess, and his command is gone. It's bad enough to have a significant velocity drop, but combining that with a loss of command is frightening.
This is Betances floating a 79 mph knuckle curve that Juan Lageras smacks out of the park for a home run last week. Betances averaged 83 mph with that pitch last year.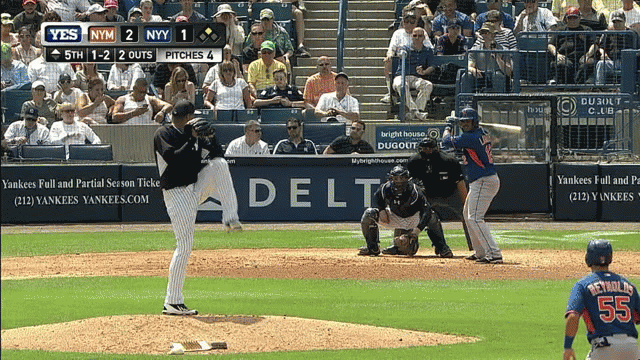 Joe Girardi has said that Betances wasn't throwing in the high 90s in the spring last year, either, but as the great Yogi Berra said, "it's getting late early". It is now March 30, and as of yesterday, Betances was still sitting in the 91-94 mph range in a minor league game. According to pitch FX, Betances averaged 95.8 mph in his April 1 appearance against the Astros last year. So unless Betances is holding back for the start of the regular season, the velocity drop looks substantial.
Betances' problems are at least partially mechanical. The Yankees have said his front shoulder is flying open and his throwing arm is dragging, leading to a loss of velocity and erratic command. Even if that explains his velocity drop, the mechanical problems are alarming because the reason why Betances failed as a starter with the Yankees was because he couldn't repeat his delivery on a consistent basis. The move to the pen helped fix that. But is it now a problem again?
That also makes me wonder: could Betances be hiding an injury? He says he's fully healthy and has no pain anywhere, so take that for what it's worth.
In my keeper league, I held onto Betances, a non closer in 2014, throughout the fantasy playoffs in case David Robertson bolted for free agency. I ended up hitting on that, and had Betances plugged in as my #1 closer this year for my team. But after watching him this spring, I painfully called an audible on Saturday, the final day to select keepers, and swapped Betances out for Brandon Belt. It made me sick, but there's too much uncertainty. I hope that changes because I'm a huge fan and loved watching him pitch last year, but if you are drafting this week, I would be wary of taking Betances at his current ADP. He's not the same guy right now.