In part 1 of my "starting pitchers with high upside going late in fantasy drafts" series, I identified Jarred Cosart as one of my players. I define high upside as the potential to significantly outperform their draft slot. I wrote about his positives and negatives:
Cosart flashes nasty stuff, with a cut fastball that touches 95, an 80 mph curve that flashes wipeout break, and a developing change up. He also has a fantastic ground ball percentage at approximately 54%, which is in the top 10 for starters.

Cosart's main issues are command, control and a lack of a third pitch. Cosart threw his cut fastball 70% of the time and curve 25% of the time in 2014, making him essentially a two pitch pitcher. His change up, however, has had excellent results against it in the limited time he's thrown the pitch, as opposing hitters generated a measly 40 wRC+against it. Cosart said that he tweaked his change up grip with the help of teammate Henderson Alvarez this offseason to make him more comfortable with the pitch. He says that he is committed to throwing it significantly more often in 2015, because he realizes the importance of having a third pitch. The Marlins have also worked on Cosart's command and control since joining the team. Cosart cut his walk rate down from 10.1% in 20 starts with the Astros to 8.5% in 10 starts with the Marlins.

If Cosart can keep his walks down and add in an average change up to give him a consistent third pitch, he has the skill to prevent runs at a high level, especially pitching half of his games in Marlins Park. I like the value a lot with Cosart.
This article gives some visuals of the nasty stuff he flashes. Here is a look at his repertoire:
Cut Fastball
Cosart averaged 93.5 mph on his cut fastball last year, 11th best among starters. He threw it 70% of the time, 6th most among starters in 2014, and routinely dialed it up to 95 mph.
Cosart blowing a 95 mph fastball past Joe Mauer this spring: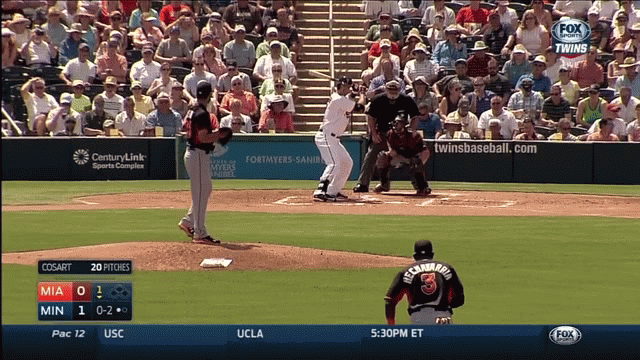 Painting 95 mph on the inside corner to strike out Carlos Gomez: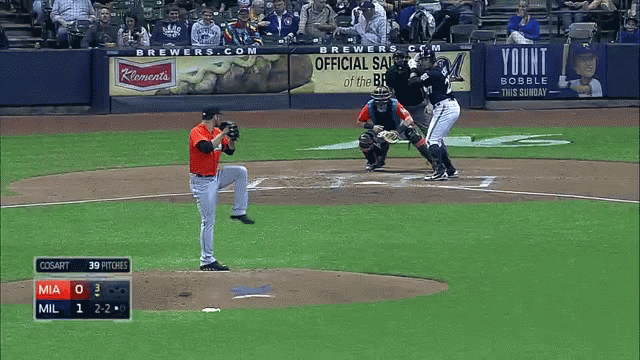 Painting 95 mph on the outside corner to strike out Freddie Freeman:
93 mph painted on the inside corner to strike out Andrelton Simmons:
93 mph cutter gets a swinging strikeout of B.J. Upton: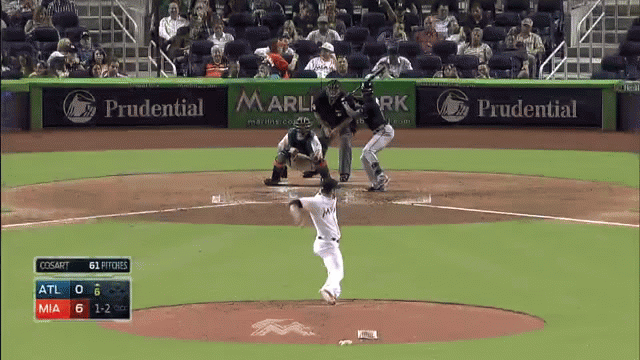 Cosart's cutter is filthy, but the lack of a consistently used third pitch makes it less effective. Developing a consistent third pitch to keep hitters off it will improve his results on the pitch.
Curve
Cosart flashes a nasty curve, and generates a large percentage of ground balls with it at roughly 65%.
Here's a wipeout 81 mph curve that strikes out Gerardo Parra:
80 mph curve freezes Jason Heyward:
80 mph curve strikes out Khris Davis:
Change up
Cosart rarely throws his change up (5%), but he's had excellent results with the pitch. Opponents only have a 40 wRC+ against it in his career, and the Marlins are trying to get him to throw it more often in 2015. Juan C. Rodriguez of the Sun Sentinel wrote of Cosart's change up,
"It's going to be a huge pitch for me, Cosart said.

When we're getting into late-game situations where if I get in a 2-0 count, I can just throw one for a strike to get a ground ball and get out of an inning, stuff like that. I'm happy with the progress. I've been doing a lot of that in the bullpens."

"I threw some on 2-0 counts, 1-0 counts, all stuff I don't think I would ever do during the season, but we made it the number one priority to get that pitch where it needs to be," he said. "You become a two-pitch guy against any team in this league it's going to be tough."

Last season Cosart never gained a comfort level with the changeup. He compared notes with teammate Henderson Alvarez and developed an acceptable grip he tinkered with during flat ground throwing sessions over the offseason.
Here were some of Cosart's change ups thrown last season:
Really good 83 mph change up to strike out Shin Soo Choo:
Getting a swinging strikeout of LHB Scooter Gennett on an 85 mph change up:
82 mph change up weakly rolled over for a ground out: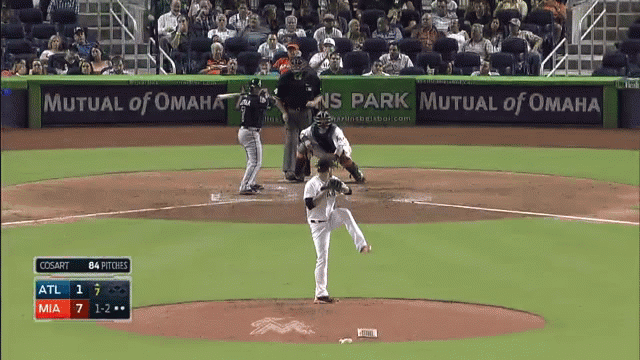 If Cosart can consistently throw an average change up to keep hitters more honest, the results on his fastball and curve will improve and he'll become a more dynamic and effective pitcher. It will also help him miss more bats, something that he hasn't done enough of to this point in his career. His strikeout and swinging strike rates have been significantly below average.
Cosart is going undrafted in 92% of Yahoo leagues. With some natural progression on the mound (he's only 24 years old), the development of his change up, and an improvement in command, Cosart has the potential to emerge as a good fantasy option in 2015, and you won't have to give up much to get him.