I attended last Saturday's Mets vs. Marlins spring training game in Jupiter to get a look at top LHP prospect Steven Matz. Here was the Marlins lineup:
Dee Gordon, 2b
Christian Yelich, lf
Giancarlo Stanton, rf
Martin Prado, 3b
Jeff Baker, 1b
Ichiro Suzuki, cf
Jarrod Saltalamacchia, c
Reed Johnson, dh
Miguel Rojas, ss
Matz has had varied reviews from major prospect outlets. Baseball Prospectus ranked Matz as their #33 overall prospect on their 2015 top 101 list, but ESPN left Matz off their top 100 list.
I'm no scout, but here are my thoughts:
Matz was very impressive. He was 91-95 on his fastball with good movement, 82-85 on his change with strong sink at times, and 75-80 on his curve.
His stuff isn't as overpowering as Noah Syndergaard's, but the swings the big leaguers took against him were almost 100% uncomfortable. Only one batter took a good swing against Matz, MVP candidate Giancarlo Stanton, who narrowly missed a home run and made very loud, sweet contact on the ball. All of the other hitters made very ugly sounds with their bats. They couldn't see the ball well, and they had a hard time putting the barrel on the ball.
Here's a play by play of my afternoon in Jupiter, with visuals:
Matz warming up in the bullpen about 20 minutes before the game: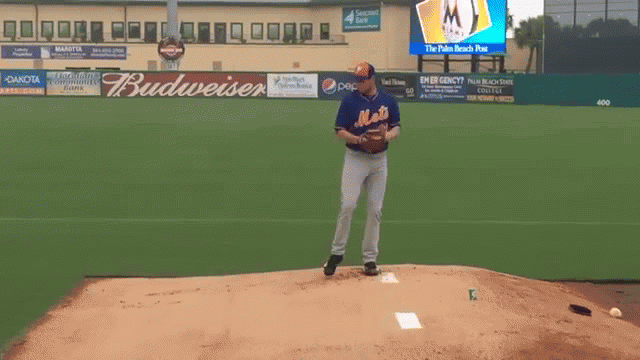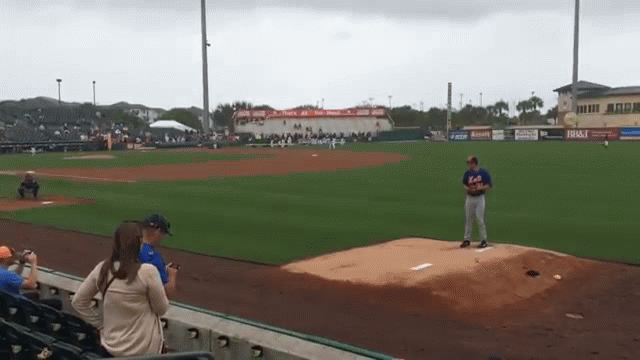 Matz threw a nasty change up in warm ups that was about 82 mph and had the bottom drop out, and tossed most of his warm up fastballs around 91-92 mph. Unfortunately, he drilled the first batter of the game, Dee Gordon, possibly due to some nerves. He then got behind LHB Christian Yelich with a fastball up and away that wasn't close, so he may have been a little charged up to start the game.
This 82 mph change up was the second pitch to Yelich and it evened the count at 1-1. It is thrown for a strike yet gets past the catcher, probably due to a cross up:
Matz threw a 2-1, 76 mph curve that Yelich tried to bunt for a hit down the third base line, but bunted it foul. He then threw a 2-2 curve in the dirt at 79 mph that Yelich laid off. On 3-2, Matz completely fooled Yelich with a nasty curve for a swinging strikeout. Yelich wasn't even close to touching the pitch. Yelich is one of the brighest young hitters in the NL, and Matz made him look silly. I wish I had recorded it.
The third batter Matz faced was Giancarlo Stanton. Stanton crushed the first pitch deep to RCF, but Juan Lageras tracked it down. It probably would have been a home run with normal weather conditions; it was rainy and the wind was blowing in. This was the only good swing a batter took against Matz in his 2 innings, and the sound the bat made was rather incredible. It sounded like an explosion.
Matz then faced Martin Prado and fell behind him 2-0, but threw a really nice 92 mph fastball that cut in on his hands and caused a very weak ground out to second base.
Notice how the ball runs away from the barrel and lands near the handle in this slow motion .gif:
Throwing pitches that run away from the barrel are great for generating weak contact. Generating weak contact dramatically improves results on batted balls, increasing the odds of preventing runs.
One criticism of Matz in the first inning was that he fell behind 3 of the first 4 hitters. MLB hitters have dramatically better results through 1-0 counts than 0-1 counts, and it's important to get ahead to have sustained success in MLB. But Matz was hyped up, telling Newsday,
Matz had 20 family members and friends in the stands for this career-changing moment, so on that opening pitch, his adrenaline must have been off the charts.

"I think it got the best of me," Matz said. "I was a little over-amped. I usually tend to overstride when that happens."
Matz settled down in the second inning and retired the side in order. Here's three .gifs from the Ichiro at bat:
95 mph fastball: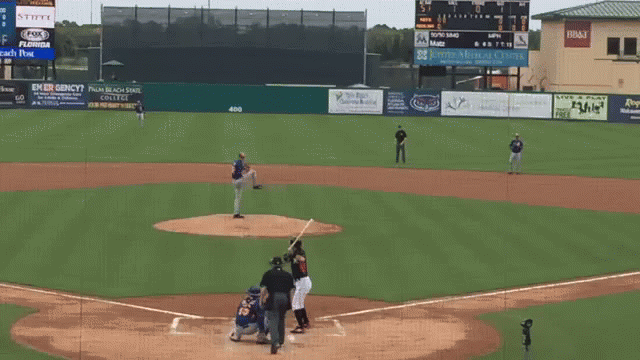 75 mph curve weakly rolled over:
78 mph curve weakly tapped back to Matz:
Ichiro is past his prime, but to see him take such weak cuts against Matz was impressive. Ichiro said after the game to Newsday,
"When you see a 95 fastball and then a 78 curveball," Ichiro said through his interpreter, "that's definitely the stuff of a big-leaguer."
The last batter Matz faced was Jarrod Saltalamacchia. Salty struggled significantly against Matz, weakly fouling back 3 pitches before whiffing at a 92 mph fastball.
Fouling back a 94 mph fastball: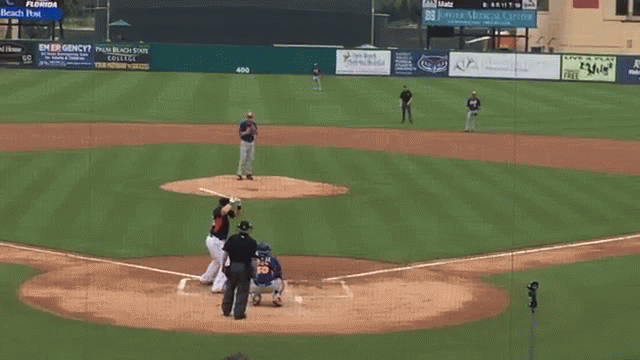 Weakly fouling back an 80 mph curve:
Striking out swinging against a 92 mph fastball:
What stood out to me the most about the start was how the hitters couldn't see the ball well. Matz hides the ball behind his body as he's delivering the ball and hitters pick it up late. This causes his stuff to play up. A 92 mph fastball that is picked up late seems a lot faster than 92 mph to the batter.
Matz in 2015
The ZiPS projection system projects that Matz would have a 3.56 ERA and 3.48 FIP in 141 IP in the big leagues in 2015. That's an above average starter in terms of run prevention. Compare Matz's 2015 ZiPS projection to fellow LHP Jon Niese:
| | | | | | | |
| --- | --- | --- | --- | --- | --- | --- |
| | ERA | FIP | K/9 | BB/9 | fWAR | IP |
| Matz | 3.56 | 3.48 | 7.94 | 2.79 | 1.7 | 141.7 |
| Niese | 3.77 | 3.70 | 6.92 | 2.41 | 1.4 | 171.7 |
Matz is projected to be more valuable to the Mets as a big leaguer than Jon Niese in 2015. That says a lot.
Matz is currently projected to join the Las Vegas 51s rotation in the PCL. Unfortunately, Las Vegas is one of the worst environments for pitchers in the sport. Both Zack Wheeler and Noah Syndergaard have said they had a difficult time throwing breaking pitches in the thin air because the ball was difficult to grip and spin. This may be extreme, but I hope the Mets keep Matz out of Las Vegas and leave him in Binghamton until he's ready for a big league call up. Matz only logged 71 innings there last year. The hitters won't be as advanced and will offer at pitches that the PCL hitters will not, but I don't like the idea of the environment messing with his pitch arsenal and psyche.
It wouldn't shock me to see the Mets call up Matz in September if they need an extra LHP out of the pen for a potential playoff run. I also wouldn't be stunned if Matz was called up sometime this summer if Jon Niese gets injured.