David Wright is arguably the greatest position player the New York Mets have ever produced. According to FanGraphs, his career Wins Above Replacement (WAR) as a Met of 52.0 is significantly higher than second place Darryl Strawberry, and his career Weighted Runs Created Plus (wRC+) of 134 is equal to what Mike Piazza's was as a Met. For my money, Wright is the best Met position player ever. Not only has he been an elite player on the field, he's an elite person off the field. He's never in trouble, he never says anything bad about anybody or does anything controversial. He's exactly the person you want your son to grow up to be. Wright should have his number retired when his career is over and be welcomed back to Citi Field to a roaring applause annually.
Wright is also gritty, plays through pain, and doesn't speak up when he's hurting because he wants to be in the lineup helping his team win. That is very admirable, but it can also be detrimental to both himself and the team. 2014 is the perfect example. Largely because of playing through a serious shoulder injury, Wright had by far his worst offensive season. Prior to 2014, Wright's worst offensive season by wRC+ was 116, in 2011, when he played most of the year through a fractured back. Wright's 100 wRC+ in 2014 was exactly league average and his 8 HR in 586 PA was the lowest in his career. David Wright and "MLB average hitter" don't belong together. It's just not him.
Much of this is due to that shoulder injury he suffered in June. Adam Rubin reported that Wright had "stretched-out ligaments that failed to hold his non-throwing shoulder in place", and the pain in Wright's shoulder was so extreme that he had to tinker with his swing just to be able to get through the games.
Tim Rohan wrote on June 27,
About three weeks ago, Wright said, while stealing a base late in a game, on a muddy day at Citi Field, he slid headfirst and jammed his shoulder into the dirt. He started getting treatment before and after games, and he played on, uninhibited, he said, until Thursday, when he aggravated the injury on two plays against the Pittsburgh Pirates.

On Friday, as he went through his regular stretching and treatment regimen, he felt new discomfort in his shoulder, and the Mets, taking great caution, decided to send him to New York for a magnetic resonance imaging test on Saturday.

"It's fairly painful," Wright said.
Wright missed about a week and played until September 8 when he and the team finally decided it was time to shut it down for the season.
The shoulder injury clearly significantly affected Wright, but not all of Wright's drop in production can be placed on that June injury. Wright's performance was down all season from where it was in his career prior. From the start of the season until his June 26 shoulder injury, Wright's wRC+ was 107, significantly below his career wRC+ of 137 prior to 2014. Going back three weeks earlier to when Wright first aggravated his shoulder, his wRC+ stood at 108. Wright's poor 2014 cannot solely be blamed on that June injury.
Results aside, his process at the plate wasn't as strong as it usually is, either. Specifically, Wright wasn't hitting the ball as hard as he normally does, and he wasn't walking nearly as much.
Quality of contact rates are classified by exit velocity, batted ball trajectory, and the part of the bat the hitter strikes the ball with (sweet spot? handle? off the end?). For hard hit balls, video trackers are specifically looking for exit velocities of 90+ mph and contact on the sweet spot of the barrel. David Wright's hard hit%, or the % of at bats that end in a hard hit ball, has always been above league average in his seasons prior to last year and it was usually significantly above it. In 2014, Wright's hard hit% dropped to 14.6%, well below league average of 17.2%. By looking at a monthly split of his hard hit%, we can see how the shoulder injury played a role in this.
Wright's 2014 % of at bats that ended in a hard hit ball, by month:
| | |
| --- | --- |
| Month | Hard hit% |
| Mar/Apr | 17.7% |
| May | 14.8% |
| June | 16.3% |
| July | 12.0% |
| August | 12.1% |
| Sept | 12.5% |
The late June injury clearly affected his performance; his hard contact tanked down to about 12% after returning from the injury. But at roughly 16% pre shoulder injury, it was still below league average, which is the first time his hard hit% was below average dating back to 2007, the first year the stat began being tracked.
The second major concern unrelated to his June injury was his declining walk rate. Wright's career walk rate was 11.3% prior to 2014, and it plummeted to under 6% in April and May.
Walk rate, by month:
| | |
| --- | --- |
| Month | BB% |
| Mar/Apr | 5.9% |
| May | 5.9% |
| June | 11.0% |
| July | 10.8% |
| August | 5.7% |
| Sept | 0.0% |
The midseason injury can't be blamed for that, either.
His final walk rate in 2014 was 7.2%, significantly lower than the 11.3% BB% for his career prior to 2014.
I have wondered if Wright hurt himself in the off season or spring and didn't tell anybody. Such a big drop off in one off season at age 31 doesn't seem typical. Maybe Wright had some type of injury that didn't prevent him from playing, but impacted him enough to reduce his effectiveness. Wright is such a fierce competitor and prides himself on playing regardless of how he feels. As it was mentioned above, he played through a fractured back in 2011, so it's not unprecedented.
I looked at his swing in the spring and nothing really jumped out to my untrained eye as being unusually different from the year prior: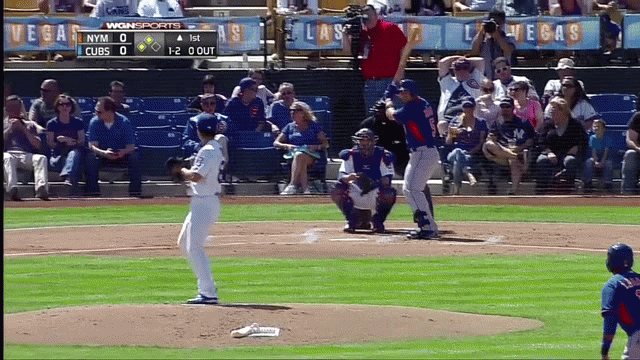 But then again, hiding an injury doesn't really explain a significantly lower BB%, either.
Wright in 2015
After not spending a day on the DL until Matt Cain beamed him in the head in August of 2009, Wright has had a significant injury in 3 of the last 4 seasons. In 2011, Wright had a stress fracture in his back that limited him to only 102 games. In 2013, Wright pulled his hamstring, which limited him to 112 games. And last year, Wright's injury limited him to 134 games, and he probably should have shut it down well before that.
It's fair to question whether Wright is starting to physically break down. I think it's imperative that the Mets give Wright more planned rest days throughout the year to give his body a break. The Red Sox are planning on doing this with Dustin Pedroia, too. Wright will fight it, because he's a fierce competitor and the team captain, but it's best for the team and best for him. If the Mets give Wright approximately 1 day off per 7-10 days, he will play 135ish games and be fresh throughout the entire season and most importantly for a potential playoff berth.
The Mets are saying that Wright is now fully recovered from his shoulder injury. Mike Vorkunov wrote,
Sandy Alderson said Friday that Wright was seen by an orthopedist and he received a report that all is right again.

"He's in outstanding shape," Alderson relayed. "No pain whatsoever and doesn't appear to be any residual impact from that injury and should be good to go."

Wright will not be under any constraints this spring.
Manager Terry Collins added,
I've seen him throw. I've seen him hit...I've seen his workout. When you walk up to him, you see the increased bulk that he's put on this winter. You couldn't do that if you're arm, especially your shoulder, is hurting.
ZiPS projects Wright to slash .275/.346/.422 with 13 HR, 11 SB, 70 RBI and a 117 OPS+ in 558 PA in 2015. It pains me to say this because Wright is my favorite player of the last decade, but I'm avoiding him in 2015. I don't think the value is strong for where he's generally being drafted and there's uncertainty in how his body will hold up.