With the news that Brandon Morrow has reached an agreement with the San Diego Padres, Morrow might be a sneaky, under the radar play for next year. Morrow teased Blue Jays fans for years with his electric stuff but he's never been able to consistently put it all together. Morrow comes with a lot of question marks and injury risk, but a change of scenery to the pitching friendly environment of the NL West might be reason to believe that Morrow can have some value in 2015.
Morrow's history is very enigmatic. In 2010 and 2011, Morrow badly underperformed his peripherals. Morrow put together a 3.16 FIP in 146 IP in 2010, which would have been 7th best in the American League had he qualified, despite having an ERA over a full run higher at 4.49. In 2011, Morrow had a 3.64 FIP and a 4.72 ERA, a similar difference. A big driver of his excellent FIP was that he missed bats at an elite level. In 2010, Morrow had a swinging strike % was 11%, which would have been third best had he qualified, and a K% was 28%, which would have been best in baseball. In 2011, he had a swinging strike % of 11.5%, which was second best in baseball, and a K% of 26%, third best in baseball and best in the American League.
In 2010, we saw him throw an amazing 1 hit, 17 strikeout shutout against the Tampa Bay Rays, the same Rays team that won 96 games and finished in 1st place in the AL East. Watching the start, Morrow was throwing his mid 90s fastball past hitters and getting them to swing and miss at a sharp slider. Morrow's O-swing, or swings outside the strike zone, during this start was over 40% and a big reason why was because he got hitters to chase his slider. The slider appears to be a very hittable pitch over the middle of the plate but drops into the dirt, giving a committing hitter no chance. Here's an example of that against Evan Longoria:
Morrow's hard fastball made his slider more effective because hitters had to begin their swings earlier to catch up with his fastball, allowing Morrow to fool them with offspeed pitches. Here's Morrow blowing a 97 mph fastball past BJ Upton:
Morrow took a no hitter 8 and 2/3 IP before a softly hit infield grounder broke up the no hitter with 2 outs in the 9th. This was the most complete and most dominant performance of Morrow's career and showcased his amazing potential.
In 2012, Morrow had a change of approach on the mound led by pitching coach Bruce Walton. Tom Dakers wrote:
I asked Walton about Morrow before the 2012 season:

Q: What does Brandon Morrow have to do to be more consistent?

A: Brandon, it's my second year with Brandon. His first year we went through some walk issues, base on balls, command issues. We pretty much ironed it out. We got to the point where now we left a lot of balls in the middle of the plate. So we went from one extreme to the other extreme and we gave up a lot of home runs last year. He's a fly ball pitcher at times, he doesn't get a whole lot of ground balls, so when the ball sits in the middle of the plate belt high and they get a piece of it, it goes. So now it is just staying down in the zone consistently. I think for Brandon to be consistent, his pitches have to be down consistent. We have to plan the effort level to pitch at consistently. Consistency is what we have to work on in every aspect. Keeping the ball down, keeping our emotions in check. Keeping our work effort at a certain level, consistently. All those will come. This is the year for that to come. There's steps to becoming a major league starting pitcher. The first step was that we needed to throw strikes. We accomplished that. It took us a year and a half. Our next step is to manage the game a little bit better and manage our emotions a little bit better and manage our season a little bit better and become more consistent. That's where we are at.
There is some data to support the concept that Morrow threw more pitches in the bottom of the strike zone in 2012.
Here's a heat map of Morrow's pitch locations from 2010-11:
And pitch locations from 2012:
Morrow did throw a higher percentage of pitches at the bottom, middle third of the plate in 2012.
TSN wrote in March 2012,
Brandon Morrow hopes using more slow pitches will mean faster innings this season.

The Toronto Blue Jays hard-throwing right-hander in the past has used an overpowering fastball and slider to rack up strikeouts.

But in his first four Grapefruit League starts he has concentrated on using his curveball and change-up and has allowed one run in 13 1/3 innings.

"I think it's something that needed to be done," Morrow said. "Obviously I was getting it done striking guys out but (a 4.62 earned-run average) in the past two years isn't exactly what you want out of your No. 2 starter, so I don't care about anything other than that."

Morrow said cutting down the pitches he needs for each inning would allow him to go deeper into games.

In his fourth start of spring training Morrow needed only 59 pitches for five innings when he one-hit Philadelphia on Thursday in a 2-0 victory. He needed to go to the bullpen to throw 15 more pitches to reach the pitch count target for the day.

In his second start of the spring he averaged 11 pitches an inning, over three innings.

"That comes with changing speeds, getting guys out in front, more contact," he said. "I plan to continue to use that and hopefully get some quicker innings, quicker outs."

He has averaged 4.04 pitches per plate appearance during his career (3.99 last year) and the major-league average is 3.81.

"I think I was close to averaging the most pitches per inning by a starter and maybe by anybody," the 27-year-old said. "I've been up there my whole career so getting those quicker innings is encouraging."

It's not a new idea for him to mix in his offspeed stuff more.

"We've been talking about it and working on it for the last two years," he said. "There are times when I wanted to get those (offspeed) pitches over and maybe took a little bit off to get them in the strike zone and I would be more aggressive with it and (the hitters) could just lay off them. But now I think I'm throwing good quality breaking balls in the strike zone that they have to put in play."
Morrow's new approach led to him outperforming his peripherals instead of underperforming them. In 124 IP, Morrow had a 2.96 ERA and a 3.65 FIP. His FIP stayed about the same as 2011 but his run prevention increased. It's unclear whether Morrow outperforming his FIP was because of good luck or because of weak contact. Morrow's plus stuff makes me suspect his low BABIP and high LOB% was somewhat related to weak contact.
Morrow's new approach in 2012 also caused him to miss less bats. His overall swinging strike % dropped from 11% to 9%. The biggest glaring difference is that hitters stopped swinging and missing at Morrow's fastball. Morrow's swinging strike % on his fastball was about 9.2% between 2010 and 2011 and dropped to 5.4% in 2012. In the limited time Morrow has pitched since 2012, his swinging strike % on his fastball has dropped even more, this time below 5%.
Morrow's fastball velocity has also not dropped off, so that isn't why he is missing less bats. Here's Morrow's average FB velocity by year:
2010: 93.5
2011: 93.8
2012: 93.1
2013: 93.5
2014: 94.1
As an aside, I strongly dislike the strategy of "pitching to contact". Pitchers sometimes revert to this in order to become more efficient in their starts and last longer into games, but pitching to contact shouldn't be the end goal. The best thing for a pitcher to do is miss bats. Bad things can happen when contact is made. Only good things can happen if the batter swings and misses. Taking something off your pitches to improve command is good, but the goal should still be to miss bats. Taking something off in order to allow the hitter to make more contact isn't such a good thing.
Morrow also suffers from type 1 diabetes. This could also partially explain Morrow's inconsistencies and injury history. The Star wrote,
Is he just a fragile athlete? What people forget sometimes is that Morrow suffers from Type 1 diabetes and even though some great athletes have dealt successfully with the disease – Arthur Ashe, Bobby Clarke, Ron Santo, Bill Gullickson and others – there are some key caveats to remember.

The following information was taken from Integrated Diabetes Services website:

"Blood sugar levels have a direct impact on strength, speed, stamina, flexibility and healing capabilities – all essential components of success in sport and fitness activities. Different forms of exercise can have very different effects on blood sugar, particularly when adrenal hormones start to kick in. Recovery from an exercise session may take blood sugar levels to strange and exotic places."
What can we expect from Morrow in 2015?
Firstly, the obvious park factor change is huge. Pitching in Rogers Centre is very difficult; the ball not only travels well in the air but the fast artificial turf makes grounders fly through the infield. Moving from that environment, where Morrow pitches most of his games in high run scoring environments in the AL East, to one of the most pitcher friendly ballparks in PetCo and the generally low run scoring environment of the NL West is going to make a big difference. Morrow will pitch over 100 games in extreme pitcher friendly ballparks in 2015 facing no DH, replacing over 100 games in extreme hitter friendly parks with the DH.
Since his improvement in run prevention in 2012, Morrow has taken a massive step back, turning in a 5.65 ERA in 2013 and 2014. Morrow has dealt with forearm, oblique and finger injuries during that time, so it's unclear whether his terrible run prevention was a result of pitching through nagging injuries.
However, one big reason for hope in 2015 is that watching Morrow in 2014, his peak fastball and slider are as filthy as they ever were. In his second start of the year against the Astros, Morrow was blowing a 98 mph fastball with tailing movement past hitters and following his fastball up with an incredible 90 mph slider.
Morrow's tailing 98 mph fastball:
Morrow's 90 mph slider: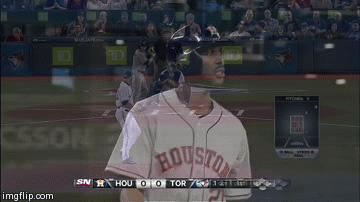 That fastball/slider combo led to a 22% swinging strike rate in that start against the Astros with a K% of 37.5%. He also underperformed his peripherals in that start: 4.50 ERA, 2.80 FIP, 1.66 xFIP. That's vintage, peak Brandon Morrow, the same guy from 2010-11. But in Morrow's other 5 starts in 2014, that guy didn't show up. His swinging strike % in his other starts were: 2.3%, 8.2%, 6.3%, 4.6%, and 8.8%. His average fastball velocity dropped from 95.5 mph in his start against the Astros to about 93 mph in his other starts.
From that, it seems that Morrow is still fully capable of pitching like he did in 2010-11 but usually chooses not to in an attempt to be more efficient. The fact that he is still capable of being the same electric pitcher of 2010 gives reason to believe in some limited chance of success in 2015, especially because of the new run scoring environment.
Morrow leaving the AL East to go to San Diego reminds me a little of AJ Burnett leaving the AL East to go to Pittsburgh. Burnett and Morrow share some things in common: they both had hard fastballs with electric breaking pitches, they both struggled in the AL East to fulfill their potential, and they both had problematic control issues. Once Burnett left the AL East to move to a lower run scoring environment, Burnett's park and league adjusted ERA- dropped over 30 points:
Burnett ERA-
2010: 124
2011: 123
2012: 92
2013: 91
Burnett's walk rates dropped from about 10% with the Yankees to under 8% with the Pirates. Maybe Morrow can find similar success in San Diego.
Although I have hopes that Morrow can have some value in 2015, I wouldn't expect more than 15-20 starts, or 90-120 IP. Morrow is obviously a large injury risk. He's missed significant amounts of time in each of the last four seasons and has thrown over 150 innings only once in his career. But you'll be able to get him cheap, and if you ride his potential production, it could be worth it for however long it lasts. And if he doesn't perform, you can easily drop him because you won't be giving up much value to get him in the first place. Pitching is extremely deep, so filtering in options throughout the year should not be a problem in most leagues.I think Morrow is worth a flier in 2015 in San Diego.