Dallas Keuchel blossomed into one of the best starters in the American League 2014. In 200 IP, Keuchel was 7th in the American League in ERA at 2.93, 6th in adjusted ERA+ at 133, 10th in FIP at 3.21, and 10th in xFIP at 3.20. He made big strides over his 2013 season, where he finished with a dreadful 5.15 ERA and 78 ERA+.
Keuchel's success is in large part due to his amazing sinker, which generates tons of weak contact and ground balls. Keuchel threw his sinker 41% of the time, mostly around 90 mph, and generated a 77% GB% with it. Watch Keuchel's sinker against Jacoby Ellsbury below and notice the late, sharp downward movement. It has so much late, hard sink that hitters often hit the top of the ball, which generates forward spin. Forward spin will make the ball dive into the ground.
This is exactly what happens to Ellsbury on this at bat. Ellsbury puts the barrel of the bat to where the pitch looks like it's going to be, but the pitch moves just enough at the end that the ball hits the bottom of the barrel, resulting in a weakly hit ground ball to first base. This was vintage 2014 Dallas Keuchel.
A large part of Keuchel's improvement from 2013 to 2014 can be credited to Keuchel ditching his loopy curve in favor of a sharper, harder slurve (sometimes called a slider). Keuchel told Eno Sarris that the curve wasn't working for him, so during the offseason, he focused on tightening his grip on the pitch, which created an excellent breaking ball for him. This, along with improving the command of his pitches, fueled Keuchel's breakout. Keuchel likes to throw his slurve when he's ahead in the count and uses it as his primary swing and miss pitch. Keuchel generated a 19% swinging strike rate on his slurve, above the average of 15%.
Here's Keuchel striking out Jacoby Ellsbury with a sharp, nasty slurve/slider: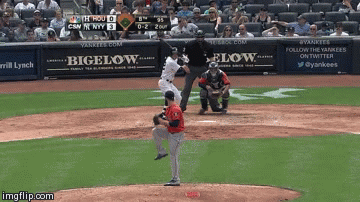 Watch where the pitch looks like it's going to be and where it ultimately ends up:
With two strikes, that's just not fair.
Keuchel's change up is another very good pitch for him. It looks and moves like his sinker at first, but is about 10-12 mph slower and the bottom drops out at the end. Hitters often have a hard time identifying which pitch Keuchel is throwing. Here's a particularly nasty change up thrown to Chase Headley:
Headley thinks Keuchel is throwing a sinker and is badly fooled. Also notice the terrific location of the pitch. The change up is located knee high on the outer edge of the plate, which is fantastic placement for a change up. I regularly watched change up king Johan Santana pitch for years and that was the type of swing and miss you would usually see on one of Santana's change ups. However, Keuchel's change ups had just about league average production against them in 2014 (104 wRC+ against, .682 OPS against), so the pitch wasn't ultimately as effective as you would be led to believe based on that single .gif.
Keuchel throws a total of 5 pitches, a sinker (41%), a slurve (21%), a four seam fastball (17%), a change up (15%), and a cutter (5%). His two best pitches are by far his sinker and slurve. Keuchel's results were amazing when throwing these two pitches:
Sinker:
Opponents OPS: .586
Opponents wRC+: 80
Slurve:
Opponents OPS: .513
Opponents wRC+: 54
Easily Keuchel's worst pitch was his four seam fastball, which hitters demolished to a 175 wRC+ and a .936 OPS. For a comparison, hitters are essentially Mike Trout against Keuchel's four seam fastball. I'm not sure if Keuchel needs to throw that pitch that often (17%) to keep hitters honest and off his sinker, but if he can find a way to reduce the use of that pitch in 2015 and keep his other pitches just as effective, he would be much better off.
Keuchel led MLB with a 63.5% GB% in 2014. His GB% was reminiscent of ground ball machine Brandon Webb, who owns a career GB% of 64.2%. Fantasy owners should target pitchers with strong ground ball rates. Ground balls are excellent because they rarely result in big production; they're usually either fielded and turned into outs, or go they through a hole for a single. Occasionally, a well placed grounder down the line will result in a double, but that's usually the worst case scenario. Grounders can never go over the fence for a home run, and if there are runners on base, grounders will often turn into multiple outs.
Keuchel had the 4th best hard hit rate in baseball at 11.1%, a statistic even more impressive because Keuchel doesn't regularly face weak hitting pitchers like NL pitchers do. Hitters find it extremely difficult to square Keuchel up due to the movement on his pitches. Having a low hard hit rate makes it easier for defenders to field his batted balls, which is especially important because Keuchel generates so many grounders. This can help cover up defensive deficiencies to some degree.
Keuchel's only rough patch came when he suffered a minor wrist injury towards the end of June. The inflammation in his wrist prevented him from getting a good feel for his slurve and his performance suffered for three starts. During these three starts, Keuchel's ERA was 6.48, and his swinging strike % dipped from 10.7% in his starts prior to the injury to 4.9% in the three starts after his injury. Keuchel's performance bounced back just fine once the inflammation died down, finishing out his remaining starts with a 2.37 ERA and 3.35 FIP after his wrist began to feel better. However, his swinging strike % dipped from 10.7% in starts prior to his wrist injury to 7.8% in starts after his wrist began feeling better (the 7.8% figure does not include the three starts directly after the injury, which would drop it to 7.2%). Based on that, it's unclear whether he ever fully recovered in 2014, or if the drop in swinging strikes was due to the league learning Keuchel's arsenal a little better.
I'm completely sold on Dallas Keuchel for 2015. I think he's an exciting pitcher, both in real baseball and "fake" baseball. He won't generate huge strikeout numbers, but few ground ball heavy pitchers do. I think his stuff is nasty. The weak contact generated against him supports that, and the lack of performance by hitters against his sinker and slurve in 2014 was exceptional. It will be interesting to see if Keuchel cuts down on the use of his four seam fastball, and if he does, what that does for the rest of his pitches. Will his sinker be just as effective? If it's close, that will be huge for his 2015 production.