This is for those who want some pointers on how to take their fantasy game to the next level. And you might be asking, why so early? Well, because this is when your work needs to start.



Your first step needs to be projecting player's stats for next season. We all have our own ways of doing this. I use a combination of what I have learned over the years as well as looking at similar players in similar situations from past seasons. Another thing to look at when projecting players forward is to look at the schedule. Do they have a lot of easy or tough run defenses on their schedule? This process of projecting players is never going to be perfect, BUT it is necessary! And this will be where your league is won or lost. It is all in the preparation.
Your next step will be translating those stats in to fantasy points. So get you league rules in front of you and your calculator and get to work. Also I strongly suggest you to do your own projections before you go out and look for fantasy news from the "experts". They can have some great insight, but you need to form your own opinions before they confirm them or make you doubt them. Another great place to get information is to hit up the sbnation team sites. While they might love players who don't matter, they do have their finger on the pulse of that team. Knowing what player's roles are and who is likely to start and who is likely to not contribute, is a huge leg up.
Now once you have tied down your projections, you need to take the most important step. Which is finding out players VALUE. It is time to learn how to build your big board. Comparing QB to QB is simple. But most have issues when it comes to comparing QB to HB or WR or TE. Now I am going to explain the way I do it which obviously, I feel is the most effective way of building your big board. Here is your question. Who is more valuable, The #4 rated WR or the #2 rated HB? And the way I feel is best to answer that question is to find out how much above average is that #2 HB compared to the average starting HB in fantasy football, and the same for the #4 WR. If the #4 WR is 55 points above the average WR and the #2 HB is only 40 points above the average HB. Then that #4 WR should be rated higher on your big board than the #2 HB. The key here is that the total points are not important! The key is how much better they are in comparison to other players at their respective position. Shown here, having a player who is far and away above average is the key!

Now the way you equate this, is to know how many players you start at each position in your league and how many teams are in your league. If you start 1 QB in a 10 team league then look at your QB projections and find the 10th ranked QB. That QB has a zero in AAPP (Above Average Player Performance). And then work your way up, if your #10 QB is projected 150 points and your #9 QB is projected 165 points, then QB #9 has a 15 in AAPP. And when you get to WRs, If you are in a 10 team league that starts 3 WR per team. Then the #30 ranked WR is set as the zero. Here is an example of a QB Board.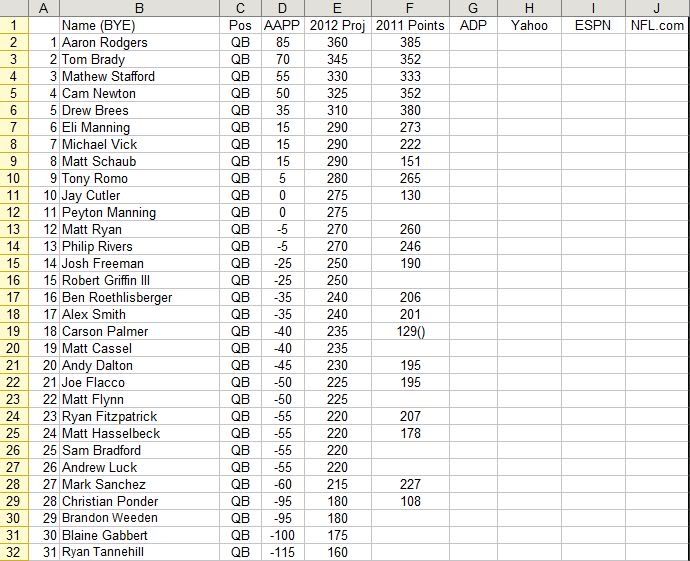 (If you are wondering, ADP is Average Draft Position. And There is also a place for yahoo! and other site's rankings)
Now when you are all said and done with all of your players and their projections and AAPP points. You simple order them by AAPP. As they are here.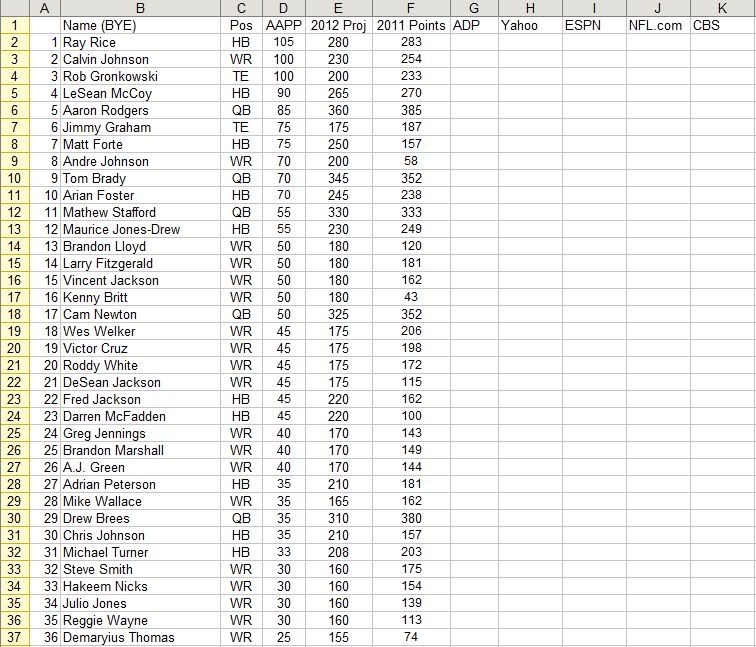 Now that you have your big board, NOW WHAT? Right? Well I for one will not be drafting Brandon Lloyd with the 13th pick in my draft, BUT that is where he is ranked on this big board. I would see what his average draft position is as well as study where he is ranked on other site's big boards and draft him accordingly. Value is the key here. Why take Lloyd 13th if you can get him in the 4th or 5th round?
Also I want to mention a few other keys-rules.
1. Always Handcuff your HBs (If you draft Forte then also try to get Bush later in the draft)
2. Know injury history and draft accordingly. (If you draft Gore or Stafford you better have a GOOD BACK UP)
3. Use late round picks on boom or bust players. I drafted Cam Newton is the final round of most fantasy teams I had. I was in the championship game in all but ONE of them at the end of the year!
4. Pay attention to bye weeks. My big board will have all the players bye weeks next to their names. Do your best to not have 2 or 3 of your WRs, HBs, TEs, DEF, QBs to have the same bye week.
5. Focus on what other teams are doing in the draft. If the 2 teams picking in between your picks already have a starting HB, then take the WR you need now and then come back for that HB with your next pick. He will most likely still be there.

I really hope this helped. Or at least was good reading for some. If you have any questions let me know in the comments and I will try to answer them all.